DIY Embossed Mother's Day Card with Watercolor Florals
Apr 21, 2022
Mother's Day is fast approaching and I got the perfect DIY card for you to make, learn something new, and spark your creative side. In this tutorial I'll show you how to make a beautiful Mother's Day embossed card with watercolor floral doodles.
Hi Friend, I'm Maira with Vial Designs, bringing you this tutorial today as part of the Pigeon Letters Design Team. Today, we're making this beautiful Mother's Day Card embossed with watercolor florals!
I'll break down everything step by step so you can create this beautiful card with me!
Supplies
Optional
Prefer watching the tutorial instead?
Step 1: Sketch Floral Doodles
First, make sure your paper is cut to the size you want your card to be. Mine is 5x7in folded (10x7in folded in half).
Next, you're going to start sketching the floral doodles around the border of the paper. We'll be drawing four types of greenery and one floral doodle interchangeably around the card and leaving the center blank so we can write the sentiment there.
---
Need some nature inspiration? There's a book or two for that 😉
---
Step 2: Paint the Doodles Using Watercolors
QUICK TIP: Use painter's tape or washi tape to tape your paper down. Since we're using watercolors, the paper might want to roll or bend. Taping down helps avoid the bending of the paper.
Before we start painting, be sure to slightly erase the pencil sketch you made of your florals. I recommend using a kneaded eraser for this step, but you can try using a regular eraser gently. You want to slightly erase the pencil marks, because we're are using watercolors and it will be difficult to erase these marks after the watercolors are dry.
Using the Pigeon Letters studio brush 04 - round, dip it in water, then grab some of the watercolor and start painting. If you want your card to be more saturated in color, add less water. Do the opposite if you want a less saturated color on your floral doodles.
PRO TIP: Do a quick swatch of the colors you plan on using for your card to make sure you like them and they go well together. This is a good way to make sure you like the colors before you start painting your final card.
Step 3: Outline the Floral Doodles
Using the Pigeon Letters Monoline Studio Pen 03, outline the floral doodles once the watercolor painting is dry. Use the Monoline Studio Pen 01 to add details and shading to the floral doodles and greenery drawings.
Step 3: Emboss the Lettering
Before you start the embossing process, I recommend you sketch out your sentiment first. For this card, I'm keeping it simple by writing "Happy Mother's Day". For "mother's" I'm using my personal modern calligraphy style, for "happy" and "day" I'm using my block lettering style.
If you'd like to learn any of these styles, come over to my blog at vialdesigns.com
I chose to only emboss the word "mother's" because I want it to stand out. You can emboss the whole sentiment if you prefer. If you choose to emboss the whole phrase, I recommend you do each word separately using the following steps.
First, letter the word using an embossing pen. I'm doing faux calligraphy on the word "mother's" by first writing out the letters, then going back and thickening the downstrokes (every time my pen goes down).
To learn more about faux calligraphy, check my printable workbook here.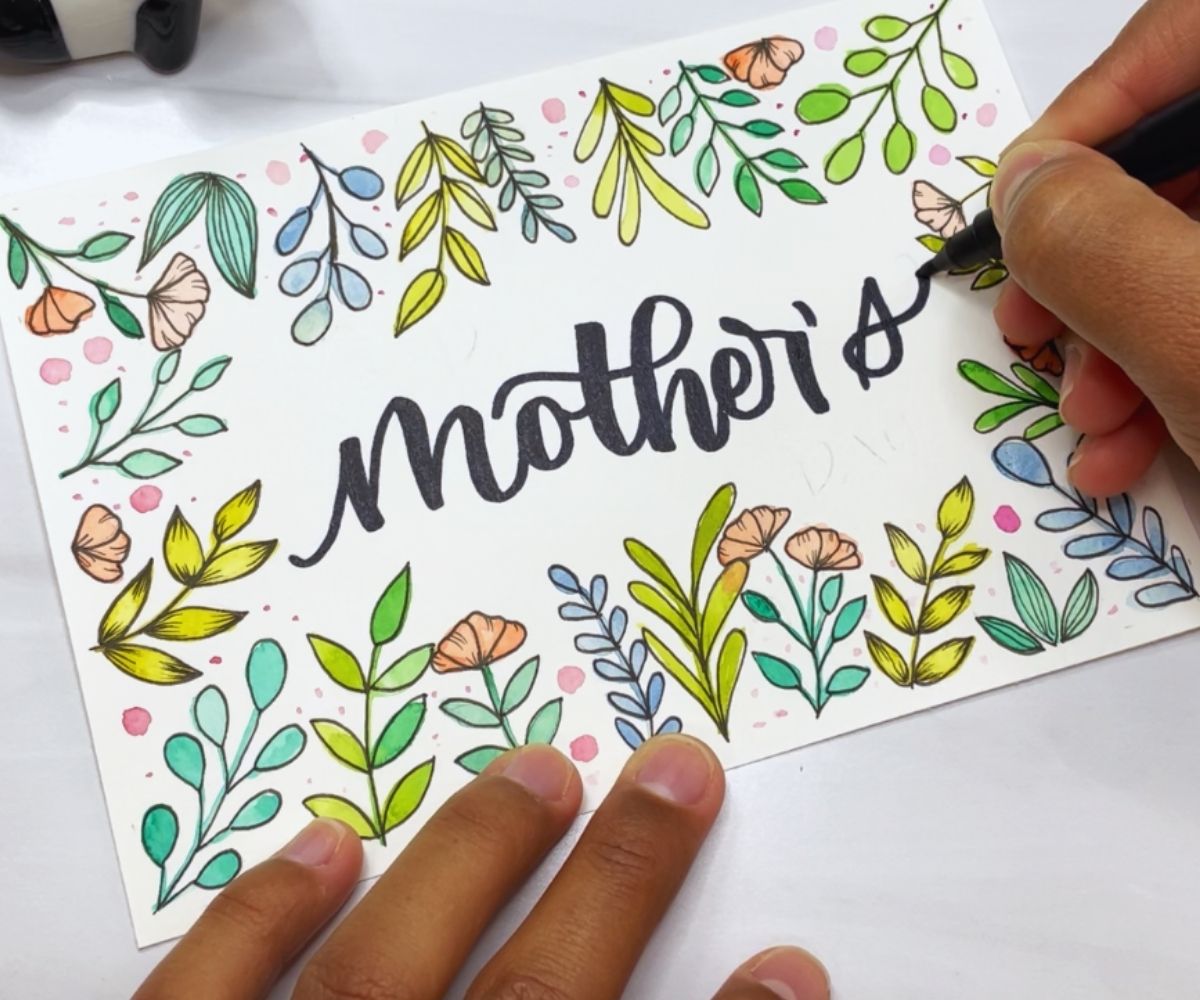 Once you're satisfied with your lettering, pour the embossing powder over the word you wrote using the embossing pen. Be generous with the embossing powder. Don't worry, it won't go to waste.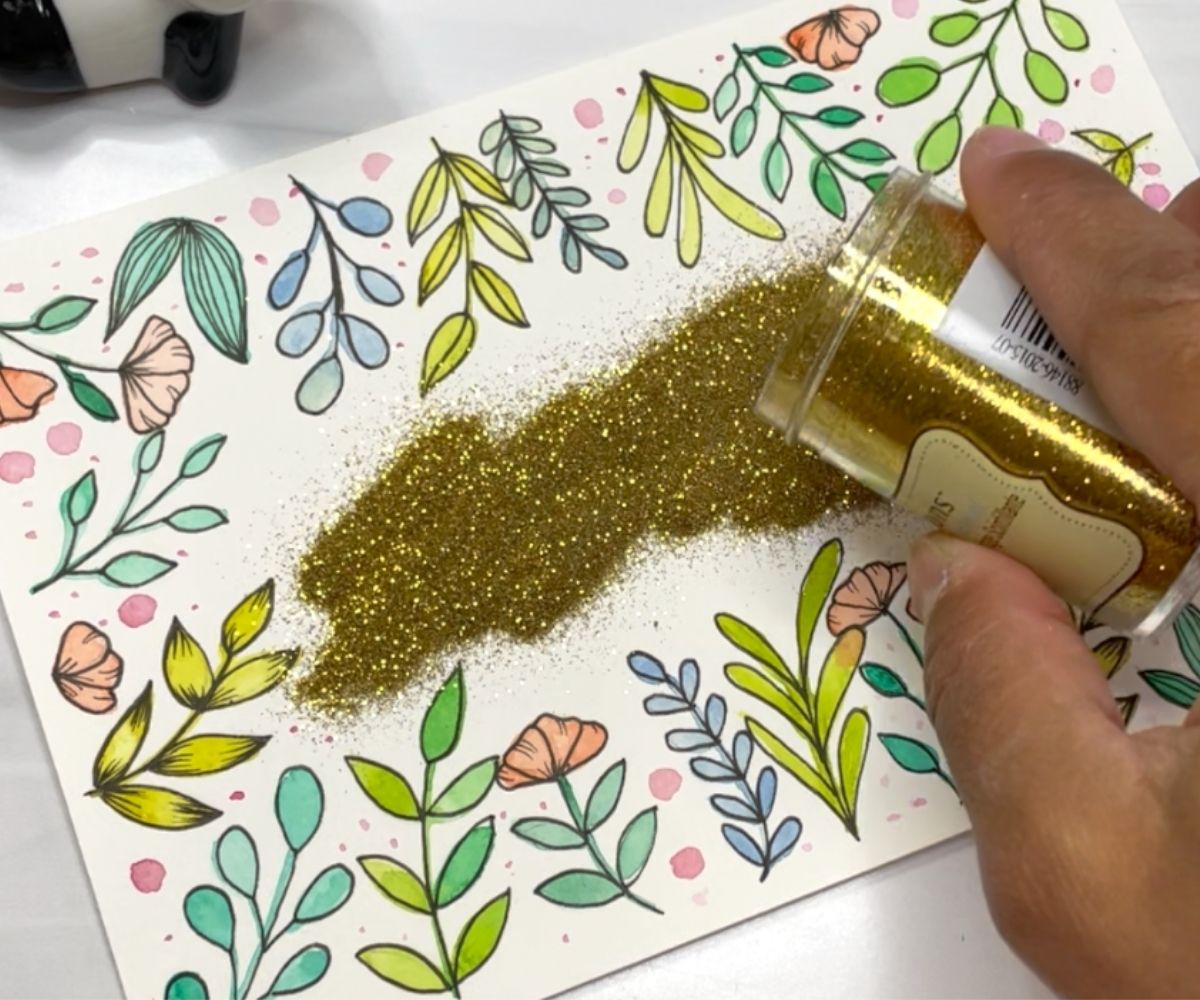 Now, remove the excess of powder. Place a scrap piece of paper underneath the card so it can catch the embossing powder. Tap the card or even use the brush to remove the remaining little pieces of embossing powder.
Last but no least, turn on you heat embossing gun and let it heat up for a little bit.
Keeping the heat gun at about 2-3 inches away from the paper, start putting the heat gun over the lettering you want to emboss. Watch how the lettering starts to magically melt and create a beautiful and shinning embossing effect!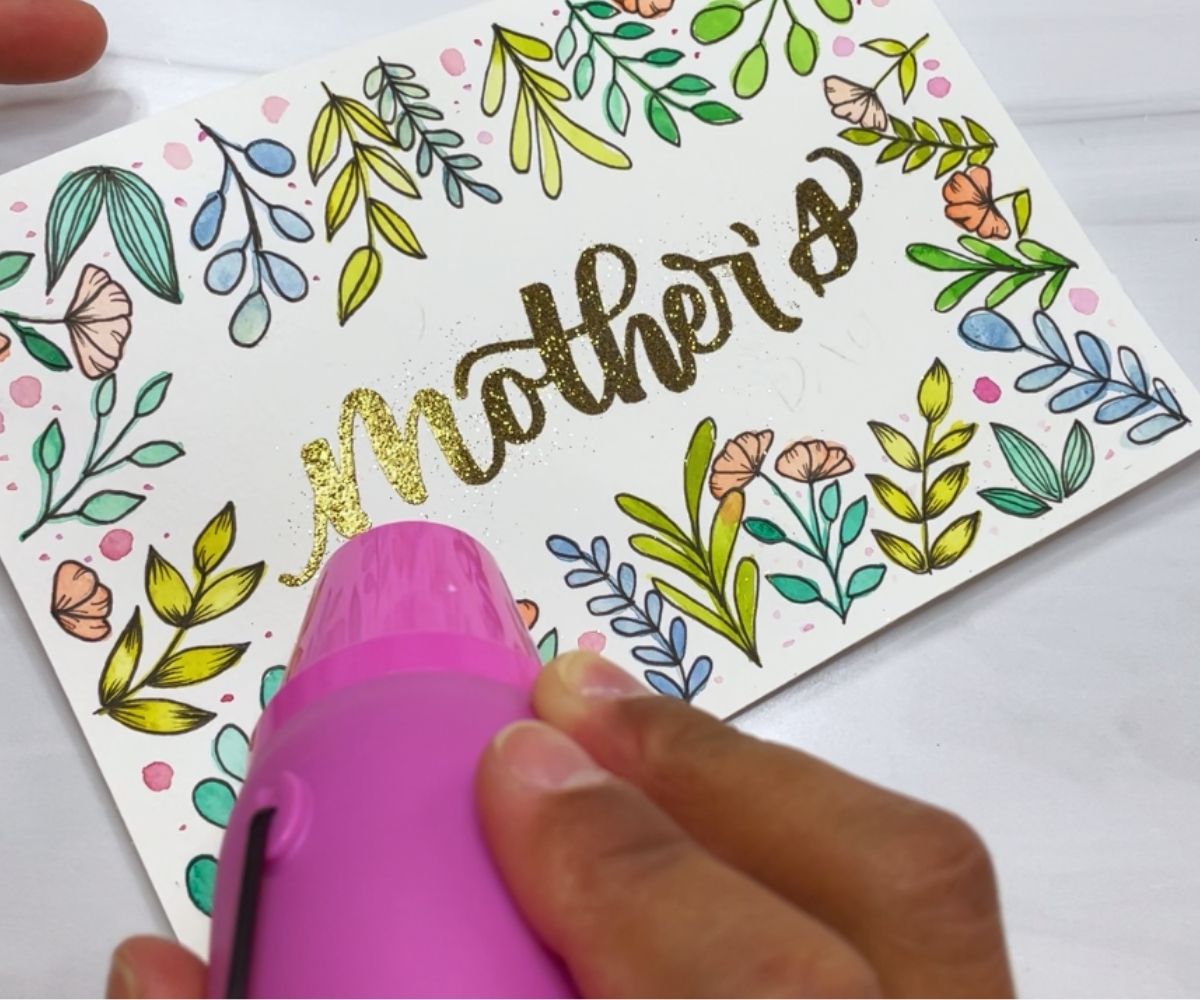 The only thing left to do now is complete the Happy Mother's Day Sentiment. I'm using the Tombow Fudenosuke Brush pen to letter "Happy" and "Day". You can even use your monoline studio pens and do faux calligraphy or emboss these words as well.
Optional Steps
Grab a 5x7in folded Kraft paper card. Glue the card with made on top of the Kraft paper using double sided tape or glue. This last step is completely optional, but I love the contrast of the white mixed media paper with the Kraft paper!
Pair your beautiful card with a colorful envelop and a heartfelt message inside and you're good to go!
That's it! You created a beautiful embossed Mother's Day Card with watercolor florals! Yay - you should be proud of your creation!
I hope you enjoy this tutorial and it gives you some inspiration to start making beautiful DIY Mother's Day Embossed Cards this year. If you recreate this DIY Mother's Day Card, be sure to tag me @vialdesigns on Instagram - I'd love to see your work!
Maira is a Colombian artist living in sunny Florida, USA! After discovering calligraphy 6 years ago, she hasn't stopped practicing and learning, which has sparked her passion for helping other women become more creative by learning calligraphy through her easy-to-follow step-by-step tutorials on her blog at vialdesigns.com. Check out more of Maira's tutorials here!
Pin this tutorial for later