Digital Greeting Card Animation in Procreate
Mar 22, 2022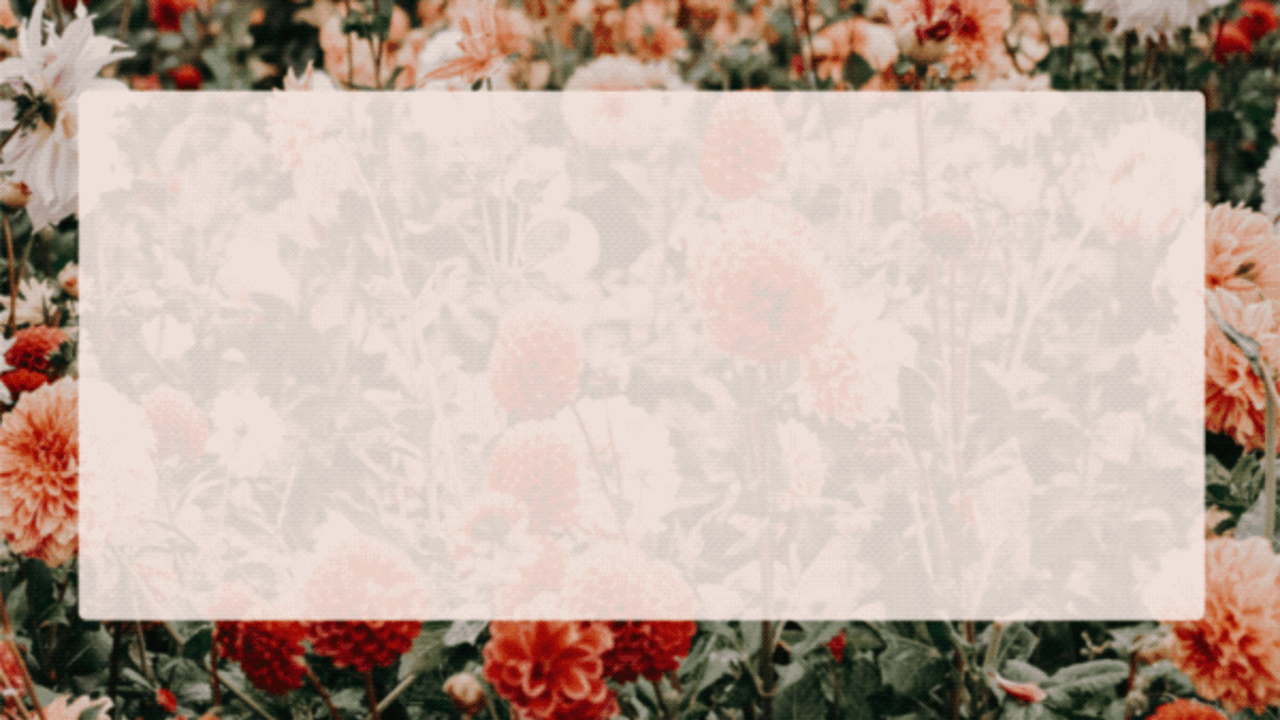 Wanna surprise someone special with a personalized animated greeting card? I'm creating a digital thank you card, but this Procreate tutorial will work for any kind of card: birthday, congratulations, love, thinking of you. The possibilities are endless!
This tutorial is beginner-friendly. Even if you're new to Procreate, I'll walk you through every step. I'm Kelley Bren Burke. I'm a digital artist and educator. I'm a member of The Pigeon Letters Design Team. I also teach Procreate classes on Skillshare.
Let's get started!
Supplies
iPad
Procreate
Stylus: I'm using the Apple Pencil

Royalty-free images: I'm using a peachy wildflower photo from Unsplash. I've curated a

collection

of beautiful options in Unsplash. Or feel free to use any background photo you'd like.

Procreate brush: I'm using a Procreate brush from The Pigeon Letters' Brush Lettering

Set, MonoPigeon. Feel free to use this, or any brush you'd like.
Font: I'm using a really cute font from The Pigeon Letters called Bulbul. Use this one, or any font that tickles your fancy.
Prefer watching the video version instead?
Step 1: Select a Background Photo
Feel free to use any photo you'd like. We'll be partially covering the photo with a semi-transparent box and text, so keep that in mind when choosing. Want ideas? I've got you! I've created a collection of royalty-free background images on Unsplash.
Step 2: Create a New Procreate Canvas
I'm using a square canvas, 4x4 inches, 300 DPI.
Step 3: Insert Your Background Photo
Insert your photo into your canvas by tapping Wrench > Add a file or Wrench > Add a photo.
Step 4: Draw a Box for Your Text
I'm using Procreate's Color Picker to pull the lightest peach from the lightest flower for the box. I'm bringing down the opacity of the square to about 90% so the background image can peek through a bit.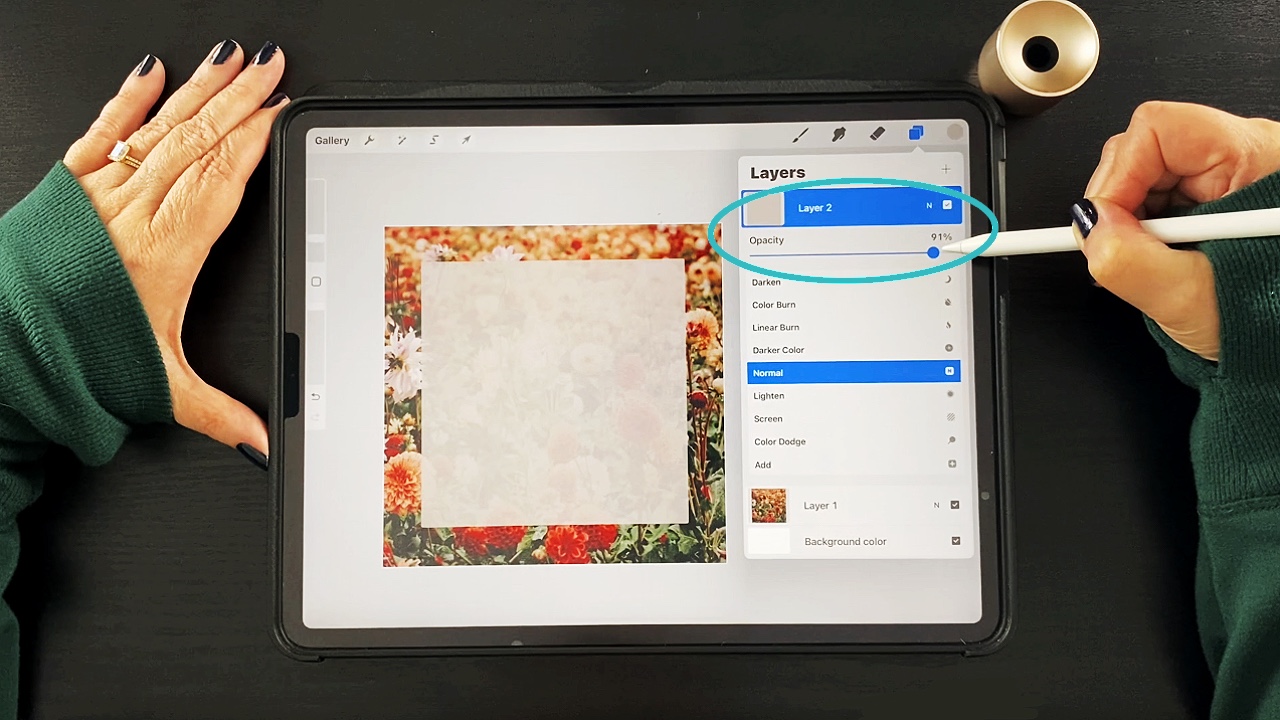 Step 5: Add Text in Procreate
I'm using a font from The Pigeon Letters that I really like, BulBul!
Step 6: Turn on Animation Assist
Pro tip! Whenever I create an animation from an illustration, I duplicate the original canvas to keep that one intact. Swipe left on the canvas to duplicate it.
In your new canvas, turn Animation Assist on. Wrench > Canvas > Animation Assist on. Your layers should look like this:
You'll have a new toolbar at the bottom of your screen. That has frames, which correspond directly to layers.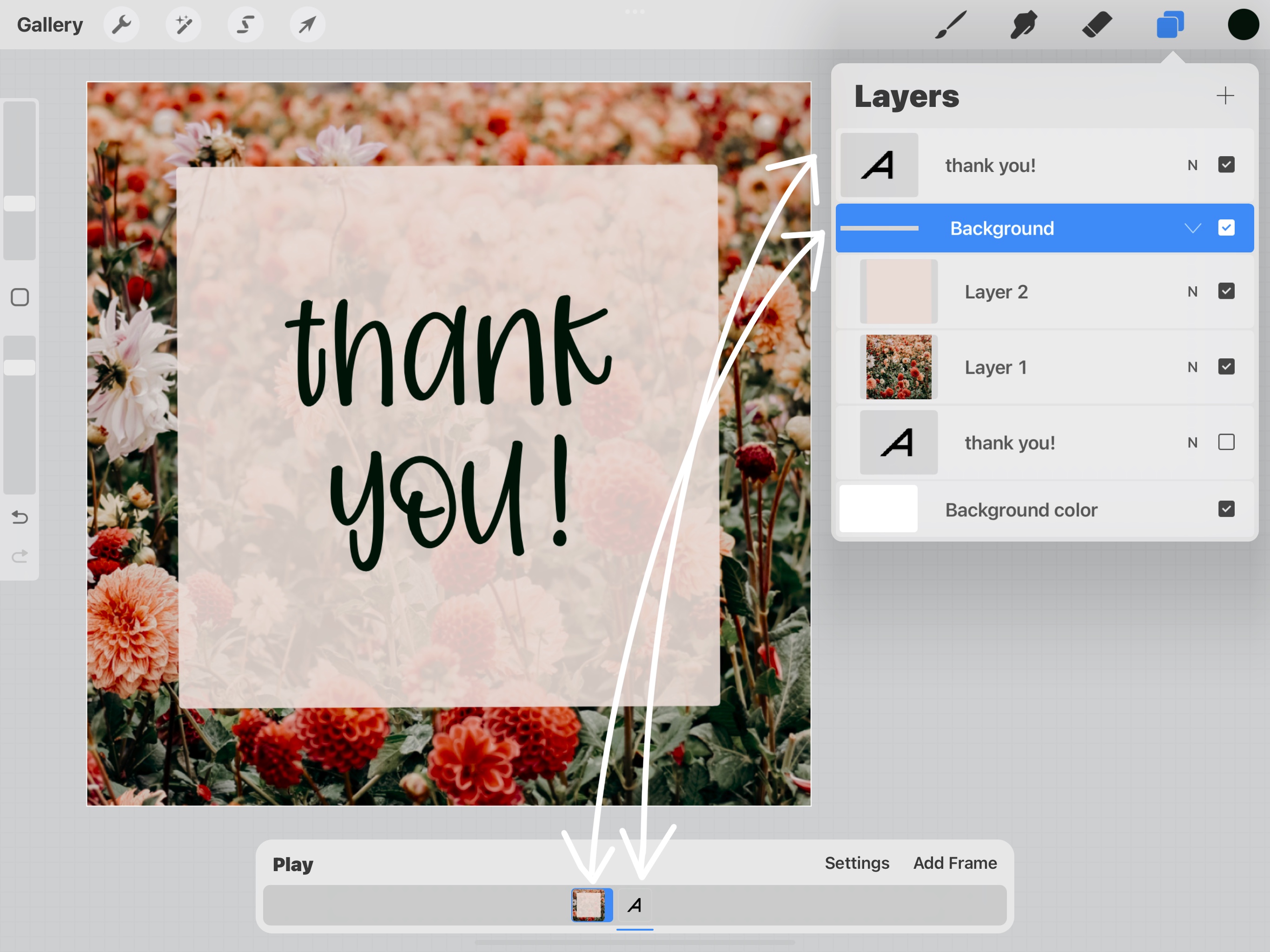 Step 7:
Rasterize the Text
In order to create the animation, we will need to rasterize our text. Tap the text layer and hit rasterize.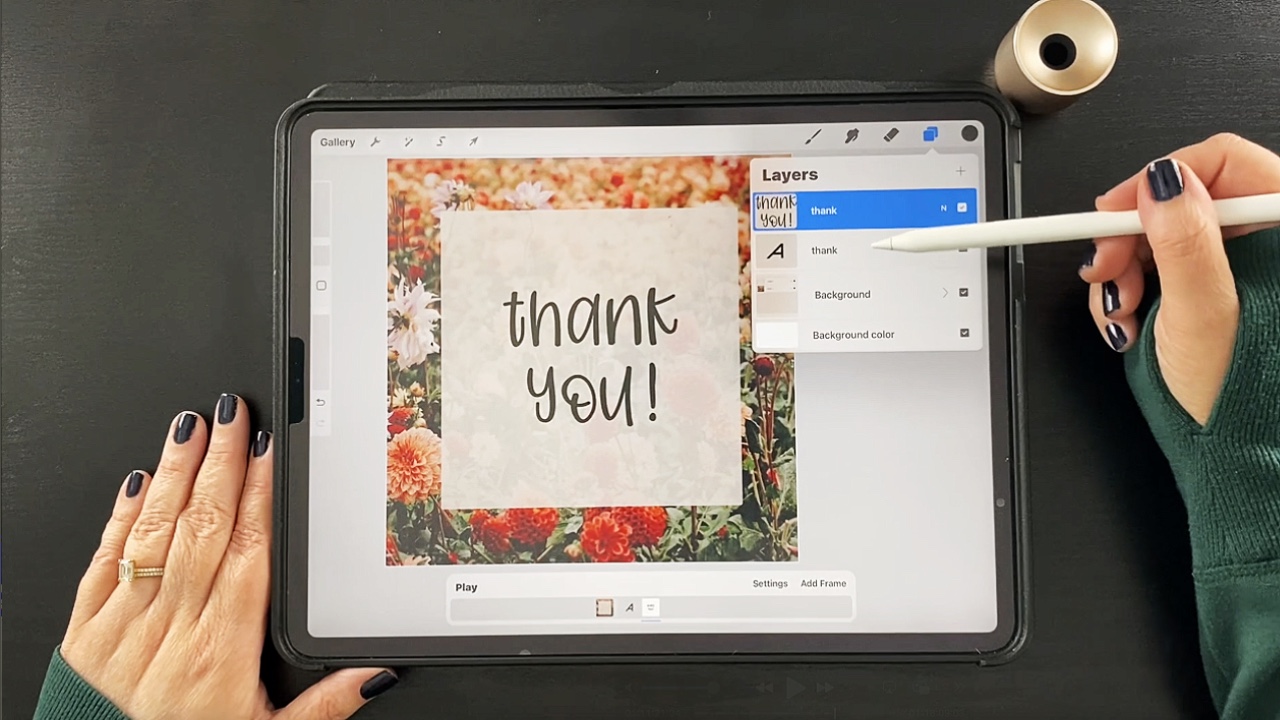 Step 8: Erase Letters to Create the Animation
Duplicate your rasterized text layer and keep the original layer on top. Erase the last character on the new second layer. In my case, I'm erasing the exclamation point.
For the rest of the animation, we'll be repeating this process.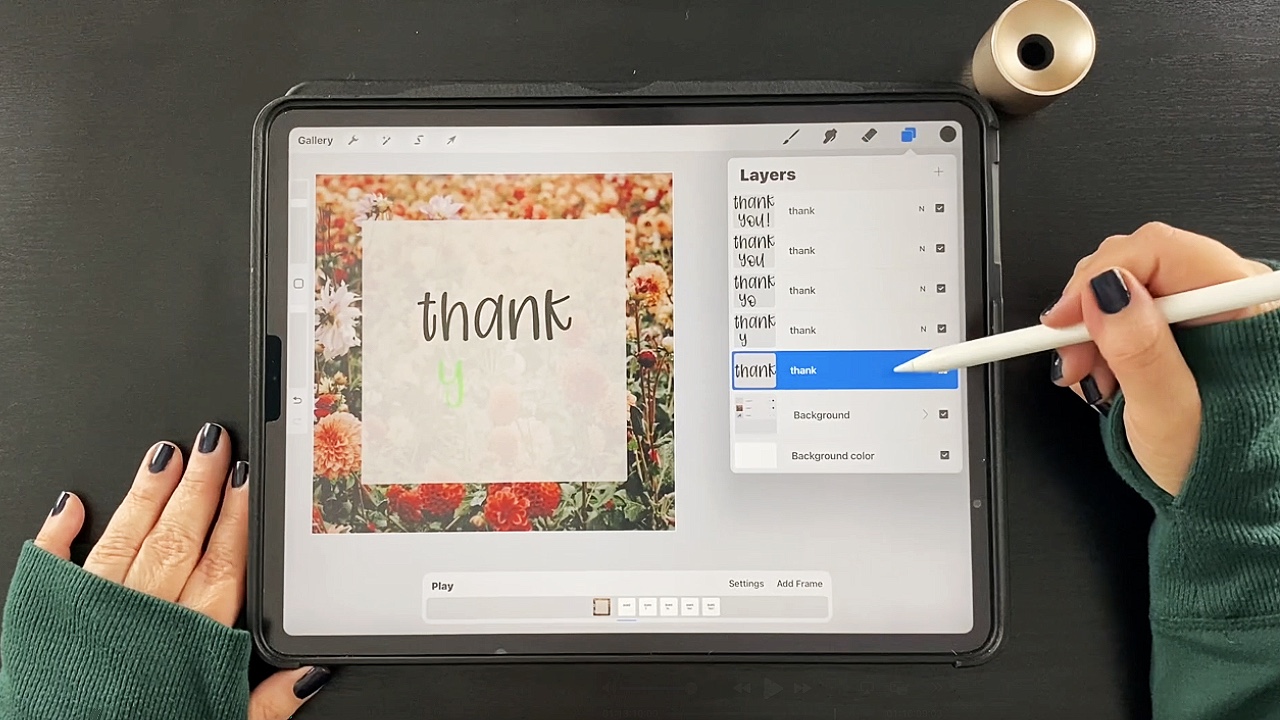 Step 9: Finish the Greeting Card!
Yay, you're nearly done! Here are the settings I'm using for my animation.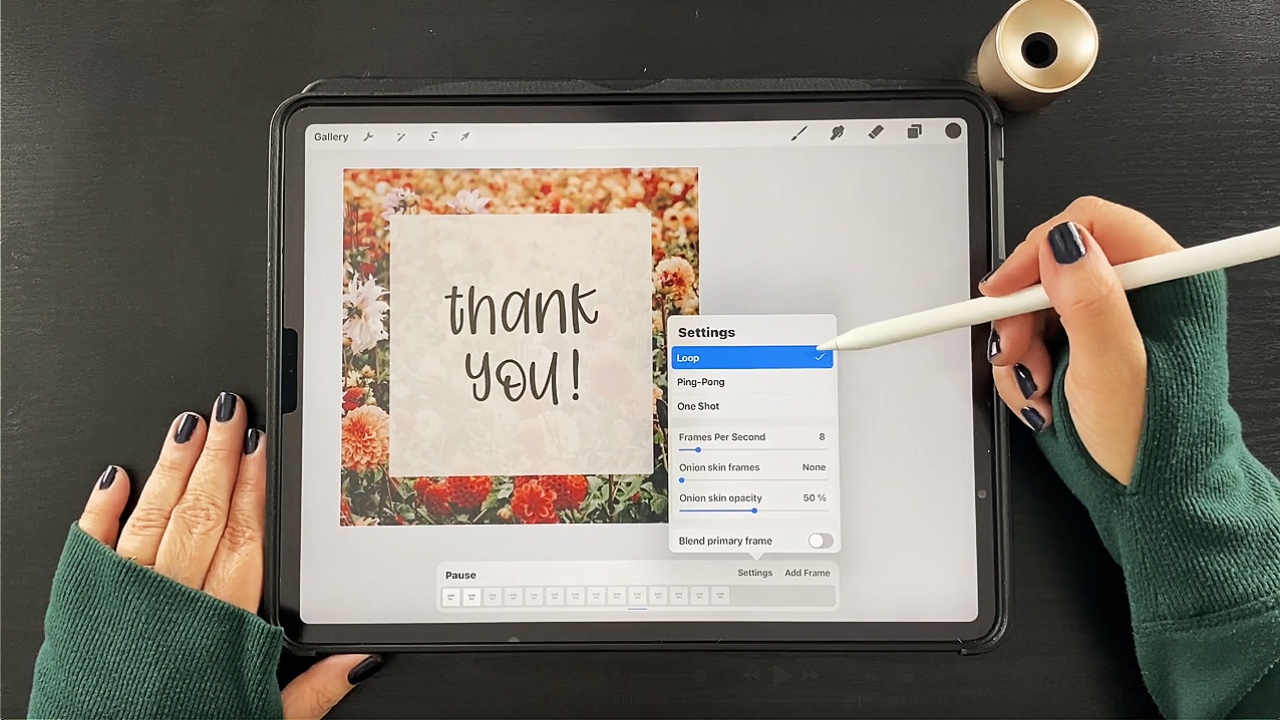 To export your animation as a GIF, go to Wrench > Share > Animated GIF.
Thanks for joining me! If you create an animated card, tag me @kelleybrenburke and Peggy @thepigeonletters! We'd love to see it.
Kelley is a self-taught illustrator, animator, doodler and educator. She creates art on her iPad with Procreate and is excited to share her love of the illustration app with artists of all levels. Check out more of Kelley's tutorials here.