My Favorite Automation Tools for Course Creators
Sep 10, 2021
Online course creation can quickly become overwhelming. Luckily, there are plenty of automation tools that make it easier! These tools are designed to help you create your online course, plan your content, and market and sell your course. They take a lot of work off your hands and help you create and sell a profitable course that looks professional.
Media
Screen Recording
If you plan on using any screen recordings in your online course, there are two a great FREE options: APowerSoft Free Online Screen Recorder and Quicktime (built in on Mac). They allow you to change screen size, output format, and adjust audio quality. Both of these softwares are easy to navigate and the first software has annotation features, which is great for tutorials. My favorite thing about these softwares is that they don't have a time limit and they don't put any watermark or branding on your video.
Video Editing
I'm alllll for Premiere Pro CC. If you have an Adobe Creative Suite account, go ahead and use Adobe Premiere Pro. For those who don't, there are plenty of other editing options that are far less expensive. For example, DaVinci Resolve is a very user-friendly editing software. It allows you to upload your footage and audio. From there, you can add music, crop, adjust speed, add captions or other text, remove background noise, and record voiceovers.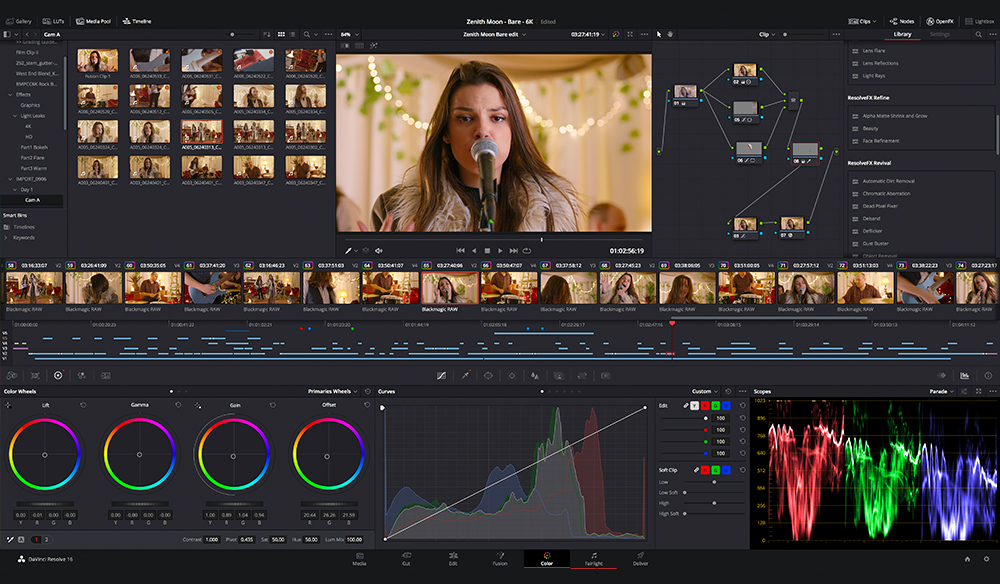 Audio Recording
Audacity and Quicktime (built in on Mac) are two of the best free tools for recording and editing audio. Through both softwares, you can record, cut out sections, and Audacity even helps you to remove background noise. It's a great free audio recording tool if you don't already have your own audio software.
Video Compression
You may run into an issue with having too large of file size for your videos. When reducing the file size, you need to make sure you don't reduce the quality. A video transcoder like HandBrake (free open-source software) can help fix the file size without losing your quality.
COURSE PLANNING
Visual Mapping
MindMeister is a free tool that lets you create a mind map of your course. You start with your main topics, then create secondary and tertiary nodes to map out more specific details. This is perfect for mapping out your course before jumping into content creation. It's helpful to see everything visually laid out before you get started.
Course Outline
Asana is another course outline option (my personal FAV) – primarily if you work with multiple projects at a time, or if you work with a team. You can attach documents, create lists, drag and drop items to reorganize them, and create as many boards as you need. I live my life inside of Asana. It's literally the best thing that ever happened to my business. AND the free version lets you do SO MUCH. The boards and items can be shared with people on your team who can add comments, subtasks, etc. and mark items as completed. If you like to do things on the go, you can also use their mobile app. I have a full walk through in the Flock because I love it so much.
Course Design
Documents & Design
Canva is a great all-around tool for designing different documents and images for your course. They have tons of templates to choose from, along with graphic elements you can add in. They all come in different sizes and are entirely editable to adjust to your needs. There is a free version of Canva, though I recommend signing up for Pro to get all of the platform's benefits (affordable and saves your branding!). It's very user-friendly and can make any project look well-designed. There are so many graphics and royalty-free photos to choose from. You can even preset your branding colors.
Marketing
Email Marketing
If you don't already have a go-to email marketing platform, I highly recommend Flodesk. It has a ton of high-quality templates and is very customizable. In addition, you can create simple forms and workflows, which will be great when you start emailing to gauge interest in your courses. Alsoooo it's only $19/month FOREVER (no matter how many subscribers you have) if you use someone's affiliate link (here ya go).
If Flodesk doesn't feel like the right fit for you, Mailchimp is an excellent free option for email marketing. You can begin building an email list and then easily export your list to import it to a new platform if you ever decide to. And DO BUILT YOUR LIST. It's the best way to get your course into the hands of your audience. Just trust me.
Utilizing the proper tools can help you launch a much more successful and profitable online course. There are so many accessible and affordable tools out there for your disposal. Always do your research and read reviews before diving into any automation tool.
For more course creation advice, check out the other blogs on course creation and follow @creativecourselab on IG. 🧪