How to Combine Watercolor and Posca Pens
Jul 18, 2022
Let's use mixed media to create a beautiful bouquet of flowers! Here is a simple step by step tutorial that will guide you through combining two versatile mediums; watercolor and Posca pens.
Hi! I'm Lisa Johnston Hancock and I'm a children's book illustrator and artist based in Southern California.
Supplies:
H or HB graphite pencil & eraser
Size 14 or medium size watercolor brush
2 jars for water - 1 for clean and one for rinsing your brush
Paper towel
4 watercolors - I will be using Gamboge Nova, Cobalt Turquoise, Vermilion & Terre Verte
Cold press paper
Posca pens - white, green, dark blue, light blue, yellow
Palette
Hair dryer
Step 1: Gather Reference Materials
I love Pinterest for this. I create a mood board of various flowers that I like. Look for flower shape variety; some bending to the right, some to the left, some more open etc.
---
Looking for more nature inspiration? Grab Peggy's best-selling Guide to Nature Drawing & Watercolor.
---
Step 2: Tape Down Your Paper
I'm using an 8" x 10" cold press paper. Have another piece of color press paper, or scrap paper handy to practice with.
Step 3: Create a Compositional Drawing
Use your graphite pencil to create a compositional drawing of various flowers that you found from your mood board. You want to have a basic composition of flowers arranged in a vase. Try to have an odd number of small and large flowers for variety. Use basic ovals and circles to block in the flowers. Then add details until you are happy with your composition. Take an eraser and lighten your pencil lines a little.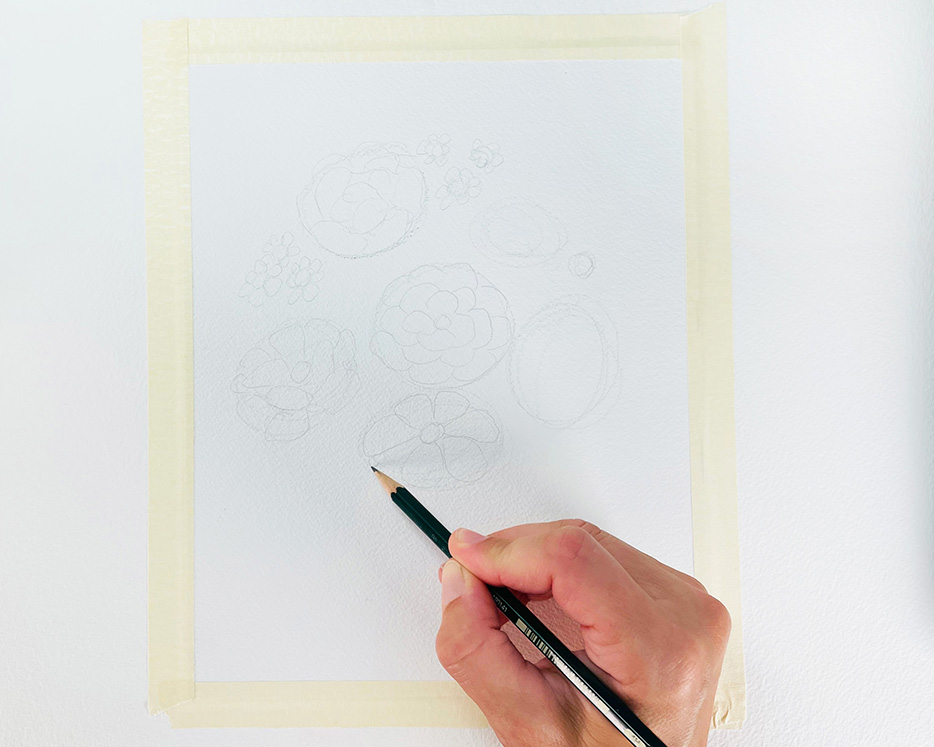 Step 4: Colors!
Squeeze a pea size amount of each color onto your palette.
Step 5: Practice Brush Strokes
Practice creating brush strokes to get familiar with your brush. Use your scrap piece of cold press paper to draw fat, skinny lines and practice creating leaf shapes. Begin by holding the brush more upright to create a small point, then press down gradually, finally pulling up. Do that a few times.
Step 6: Paint!
Moisten with clear water, only the inside of your first flower with a color of your choice. Load your brush with watercolor. You want to have an 70/30 ratio of water to watercolor. Add the watercolor pigment and let the colors bleed. Gradually add more pigment as needed. Continue with each flower. Drop in other hues for variety. Look at your references and where the flowers are lighter and darker. It's ok if the color bleeds together a little. Let it do it!
Step 7: Paint Leaves
Use the wet on dry method and the point of your brush to make leaves. Again, letting the color bleed into one another. Use the wet on dry method for your vase and gradually add more watercolor. Drop in the colors of your stems, into the wet watercolor of your vase. Once you have everything covered with one layer, dry with the hairdryer on low until the watercolor is completely dry, or go grab a cup of coffee or tea and let it dry naturally!
Step 8: Add Accents
When the watercolor is completely dry, you can add some accents and details with Posca Pens! Begin by loosely outlining your flowers. Don't worry about being so perfect.
Keep going until you feel that it is done. Less is more!
---
Lisa is a children's book illustrator, artist and art educator. With an M.F.A. from the Savannah College of Art and Design, she has a thorough knowledge of various traditional and digital painting techniques. Lisa has spent over a decade teaching at both the high school and university levels and now finds that she is drawn to crafting stories through words and pictures. Lisa's favorite pastime is photographing wildlife and landscapes for inspiration, while traveling with her family. When not drawing, you can find her relaxing outs with her two cats, watching the hummingbirds and bees pollinate her garden. She calls the Los Angeles area home, where she lives with her husband and two children.
WEBSITE | INSTAGRAM | FACEBOOK