How to Draw a Floral Vase Using Procreate
Jun 01, 2021
Who doesn't love flowers? Seeing them, gifting them, drawing them - they are beautiful in whichever form they come in. Whether you're new to floral art or are a floral expert, this fun, step-by-step tutorial will show you how to draw beautiful flower arrangements that can be used to print as a greeting card, sticker or to decorate your digital planner.
My name is Doriana from @bydoriana.studio. I'm an architect and illustrator who loves bright and happy colors. I'm thrilled to be here as part of the The Pigeon Letters Design Team 2021-2022 so without further ado, get your iPad and let's get drawing!
Psst...if you prefer to watch along, watch the video walkthrough:
Supplies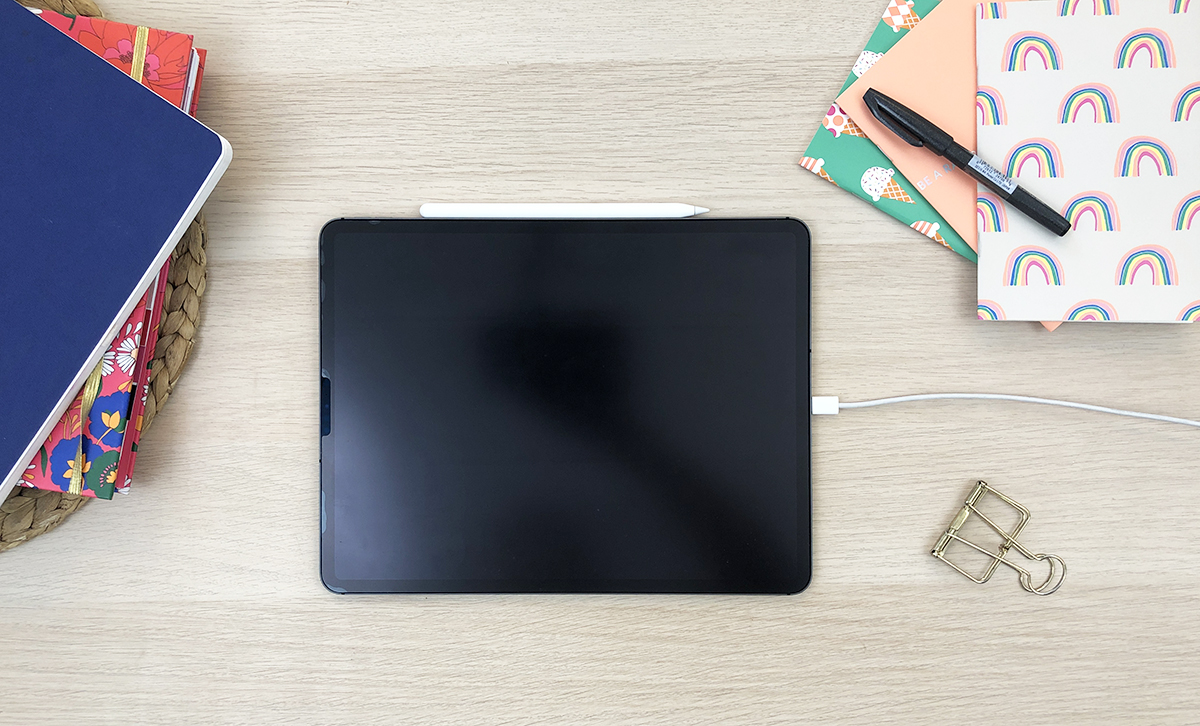 Here are some suggestions as I'll be using them:
You can follow along with other apps if you don't have Procreate, or even use watercolor or gouache.
Step 1: Choose your vase and flowers
Start by looking up references to figure out which vase and flowers you want to draw. My go-to place to find inspo is Pinterest. I mean, who doesn't love this life-sucking app? I save every picture I find interesting, thinking about the shape of the vase, the color of the flowers or the background setting. Make sure not to copy the design exactly (someone spent time creating it!) but rather use it as inspiration.
There's a lot on Pinterest but don't feel overwhelmed, you can pick something based on your favorite colors or a vase that feels like home.
For this tutorial I'll be using a mix of these vases and this flower arrangement as references:
You can also use a complete floral vase arrangement as your drawing reference. Maybe you even made one yourself!
Step 2: Sketch your vase
Open a new layer, select the Ink Bleed brush and start sketching with a light gray color your vase. This is going to give you an idea of how big to place your florals.
You can aid yourself with the Symmetry option within Procreate, it helps you draw a symmetrical object (and it's way faster, too).
Step 3: Sketch your florals
To sketch the flowers, add a new layer and start from largest to smallest, placing each one on its own layer to have more control if you want to edit all details later.
Bonus: here are a few drawing tutorials of the flowers we are going to use.
Monstera
Draw a heart shape, flip it upside down and draw the openings.
Peonies
Draw a circle, then another 2 circles inside. Then draw the petals connecting the circles.
Baby's breath or mimosa flowers
These are really easy to sketch. Draw the stem in a C-curve, then draw little c-shapes and circles in a random manner to form a squashed shape.
Rose
To draw a rose, draw a circle or ellipse in the center. Then, draw the petals as wide arcs in a spiral-like form. Keep building up until you have the desired size of your flower.
For more flower and nature tutorials, you can use Peggy Dean's Guide to Nature Drawing and Watercolor or Botanical Line Drawing books.
Step 4: Choose your color palette and background color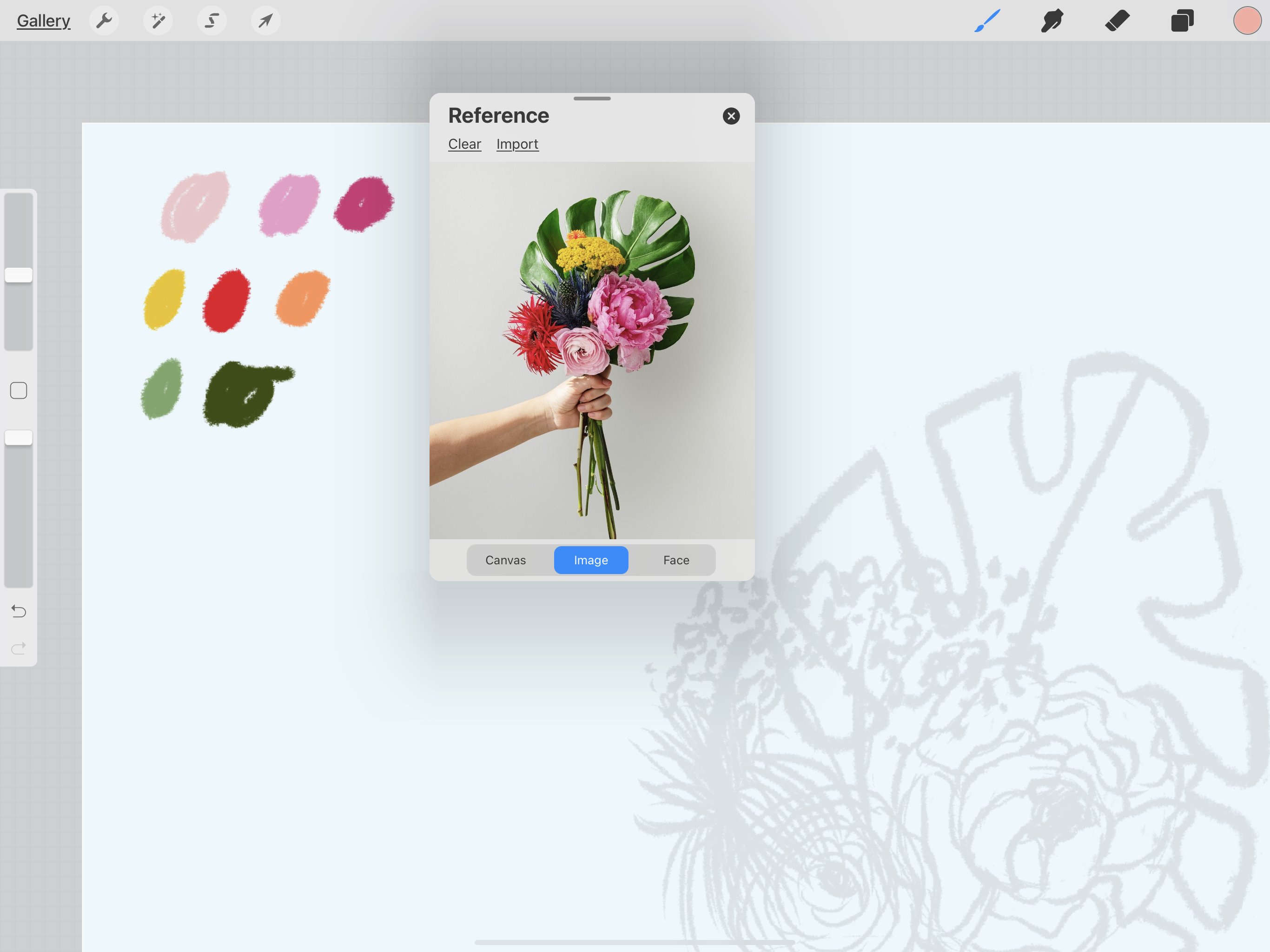 I always start by choosing my colors, whether it's from the reference photo or a random color palette I find on Pinterest. Using the Reference option in Procreate, you can have your photo on the side and combine your palette using the Color Picker gesture (hold to grab a color from the screen).
After having your color palette, choose a background color that complements and contrasts your colors. You can always change it after you finish painting, but it's nice to see your illustration taking life from the beginning.
Step 5: Paint the basic shape of your vase
If you are happy with your sketch, merge all the layers into one. Reduce the opacity to about 20% and change the layer option to Multiply. Create a new layer and place your sketch below that layer - this will allow the top sketch layer to be seen in all colors you choose.
Start with your vase by creating a new layer. Make sure toplace it on top of all layers (except for the sketch layer)!
Select Natural Ink Brush from TPL Ink Pack with a brush size of about 25%. With this brush we will be coloring all of our elements. I like to color myself, instead of using color drop because of the texture I can achieve by layering the brushstrokes.
Step 6: Paint your flowers and greenery
For the flowers, we are going to start from largest to smallest, and paint the ones that are at the back first.
Starting with the monstera, create a new layer, choose your favorite green and paint the outline. Then, start filling the inside of the leaf. Don't worry if it looks flat, we are going to be giving it a little texture and shading later.
Continue with the other flowers, keep in mind to always create new layers for different flowers and parts of them. Pro tip: name your layers for ease and group as desired.
Step 7: Give depth and texture with Clipping Masks
After all of your basic shapes of the composition are in place, use Clipping Mask for extra details, and Alpha Lock for shading and textures. I used Lisa Bardot's Alcohol Markers for this but there are a lot of built-in brushes available that can give you the same effect. You can look in the Charcoals section, or snag yourself Peggy Dean's 8 Texture Brushes bundle.
Add shadows and highlights for your flowers to POP. It doesn't have to be picture-perfect, that's the beauty of art and illustration. Give your drawing as much or as little detail as you want.
For the vase, create a new layer and choose the clipping mask option. Select the Natural Ink brush with the brush size set to about 20-25%, and draw the stripes following the form of the vase. After that, shade it while checking the reference and your chosen light source.
Step 8: Create a cast shadow
To finish, create a new layer and place it below all your layers. Select your background color and go slightly darker on the color wheel select to shade underneath the vase. This will give dimension and a setting for your drawing. Remember where your light source is coming from.
And you're done!
I hope you found this step-by-step tutorial helpful, and that you enjoyed it as much as I did making it. You can try painting along with different references and mediums, like this little cutie I made in under 10 minutes with another picture as my setup.
Or this other one I did using gouache paints.
Doriana is inspired by Caribbean architecture and enjoys using gouache and watercolor, as well as her iPad to create vibrant and bold illustrations. She also loves using her bullet journal to stay organized! Check out more of Doriana's tutorials over here.
---
Want to come back to this tutorial later? Just pin it!