How To Draw A Fun And Easy Monstera Leaf
Sep 06, 2021
Today we're drawing a fun and easy Monstera leaf using the Procreate app. These leaves are super trendy and fun! You've probably seen them on Instagram. This tutorial is beginner friendly. Even if you've never created an illustration in Procreate, I'll talk you through every step, and I'll share tips and tricks as I go. We're using Procreate tools like the Reference Image and Clipping Mask to get great results.
If you're feeling up to a bigger challenge, try drawing a few Monstera leaves in a vase, or a potted Monstera plant.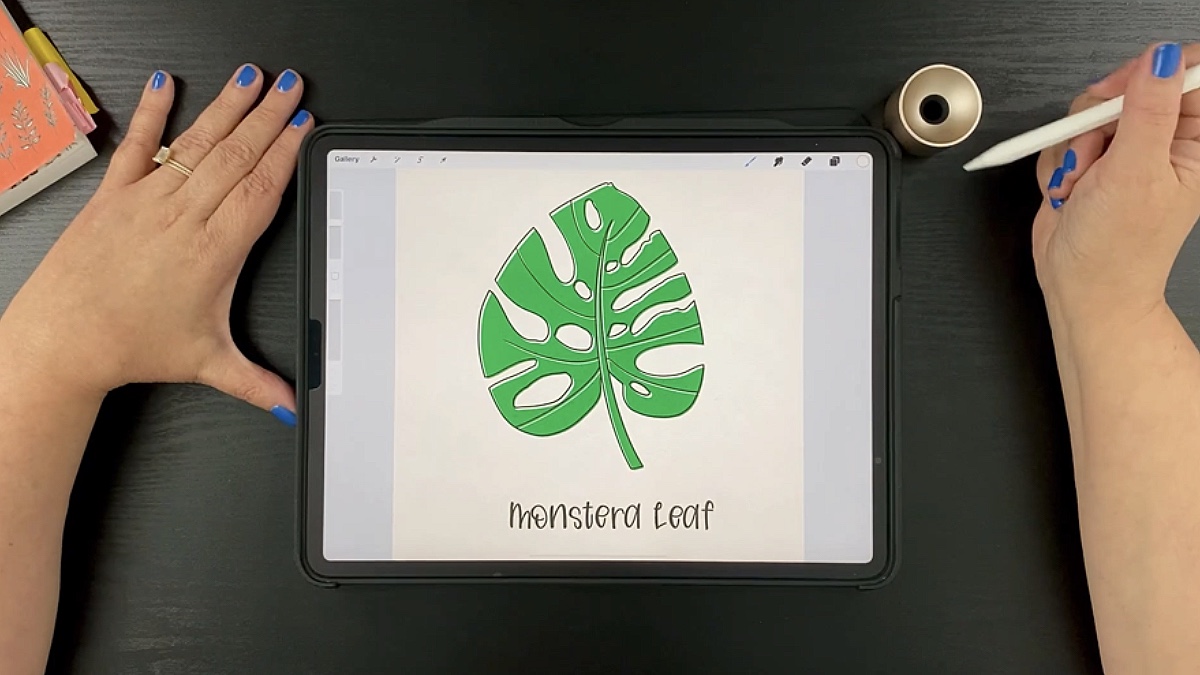 I'm Kelley Bren Burke. I'm a member of The Pigeon Letters Design Team. I'll be sharing new blog tutorials about creating digital art every month.
Supplies
iPad
Procreate app
Stylus, such as the Apple Pencil

Brushes: I'm using two brushes from The Pigeon Letters. They are TPL Classic Ink from the Ink Pack, and TPL Watered Down from the Grit brush set for texture. Feel free to use these or your favorite Procreate brushes.
Grab your iPad and let's get started!
I love referring to Peggy Dean's book "Botanical Line Drawing" for inspiration. It has 200 step-by-step drawings of leaves, flowers and cacti. I pick it up whenever I don't know what to create next, or if I'm tired of drawing the same old leaves and flowers.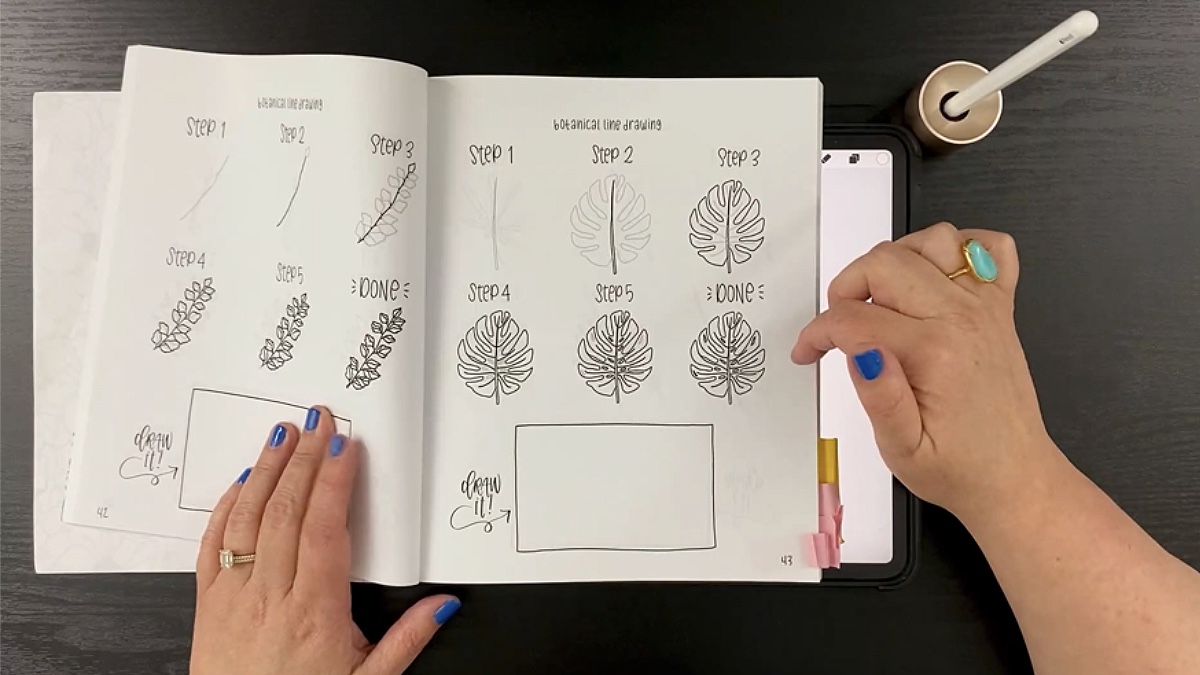 For reference photos, I'm using the free stock image site Raw Pixel https://www.rawpixel.com I searched Monstera, and there are lots of free photos to use as references.
---
Prefer watching the tutorial instead? No problem!
---
Step 1: Create Canvas
I'm using a canvas that's 3000 X 3000 pixels.
Step 2: Add a background color
Add a background color if you'd like. I'm using a beige-y color. To do this, tap on your layer. A new menu will pop up to the left if your layer, them tap Fill Layer. It will fill with the color you have selected.
Step 3: Add a reference photo
This is optional, but helpful. Did you know Procreate allows you to add a reference photo that will be in a small pop-up window?
To use this feature, Tap Wrench>Canvas>Reference Photo. Toggle Reference Photo on. Tap Image in the center of the new window, and then Import Photo. I'm importing pictures of Monstera leaves from rawpixel.com that I saved into my Camera Roll.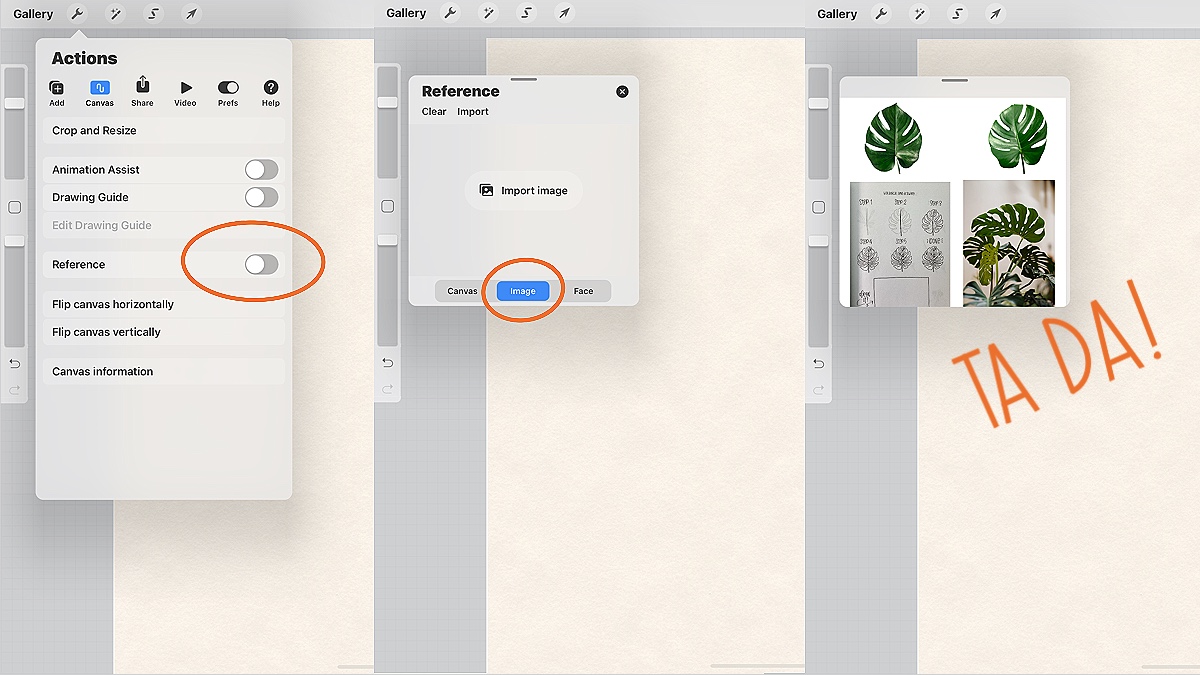 Step 4: Draw the stem of the leaf
Choose a Procreate brush for your line work. I'm using the Classic Ink Brush from TPL's Ink Pack with an off-black color.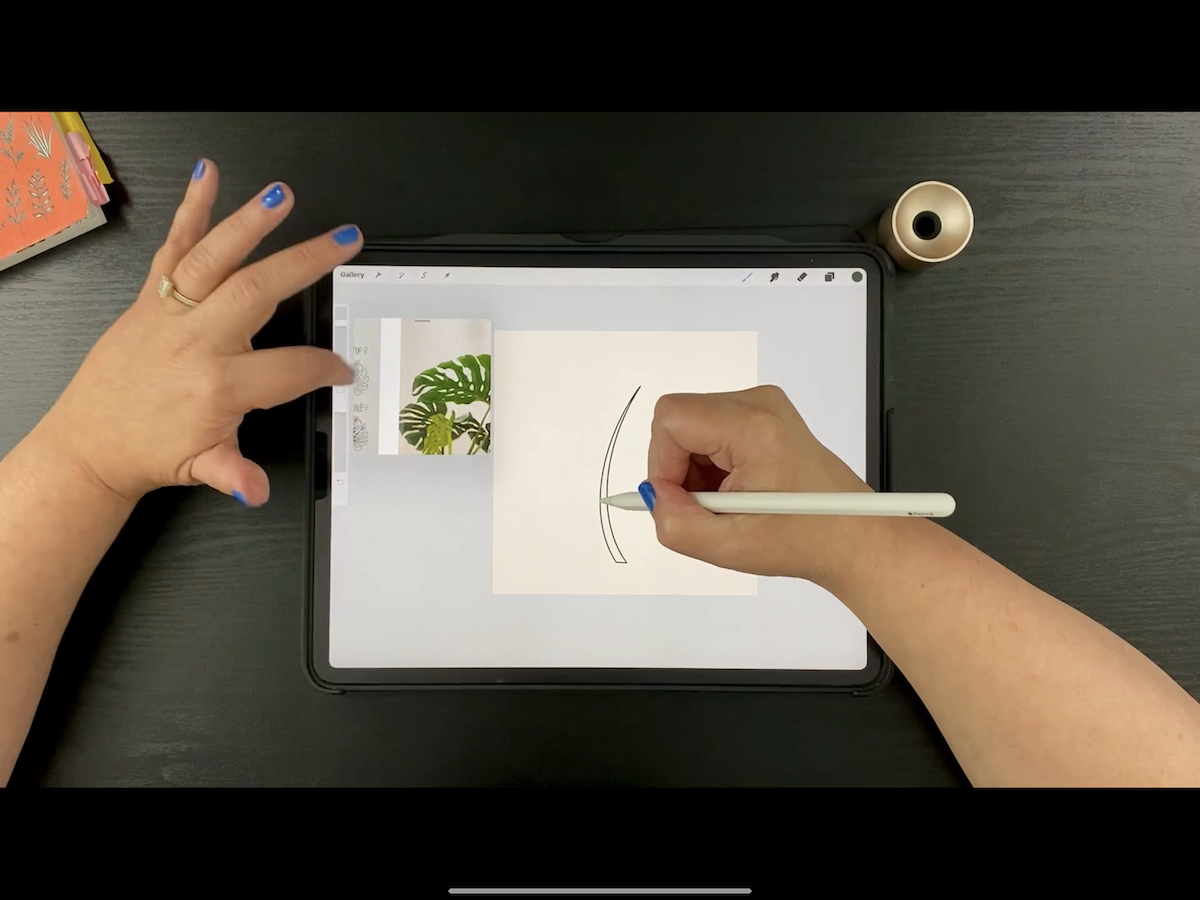 Step 5: Draw the outline of the Monstera leaf
Step 6: Add veins to your leaf
The veins of this leaf are not symmetrical. The don't mirror each other, and they have a slight curve.
Step 7: Add holes to your leaf
Ready for some trivia? The Monstera Plant is also known as the Swiss Cheese plant, because of its distinctive holes in the leaves. At first I guessed that nibbling bugs created the holes, but the plant actually grows that way. The holes are often rough oval shapes that are close to the stem.
Step 8 : Let's add some color!
You probably know how to use Color Fill on Procreate. You tap the color circle in the upper right corner of your canvas, and drag it over to the desired place, and drop it there. There's another option that has some benefits.
You set your line work layer as a reference layer. Tap that layer, and then tap Reference in the new menu that pops up to the left of that layer. You can now color fill on the layer below that layer, and you'll have an image separate from the lines. It will look like this: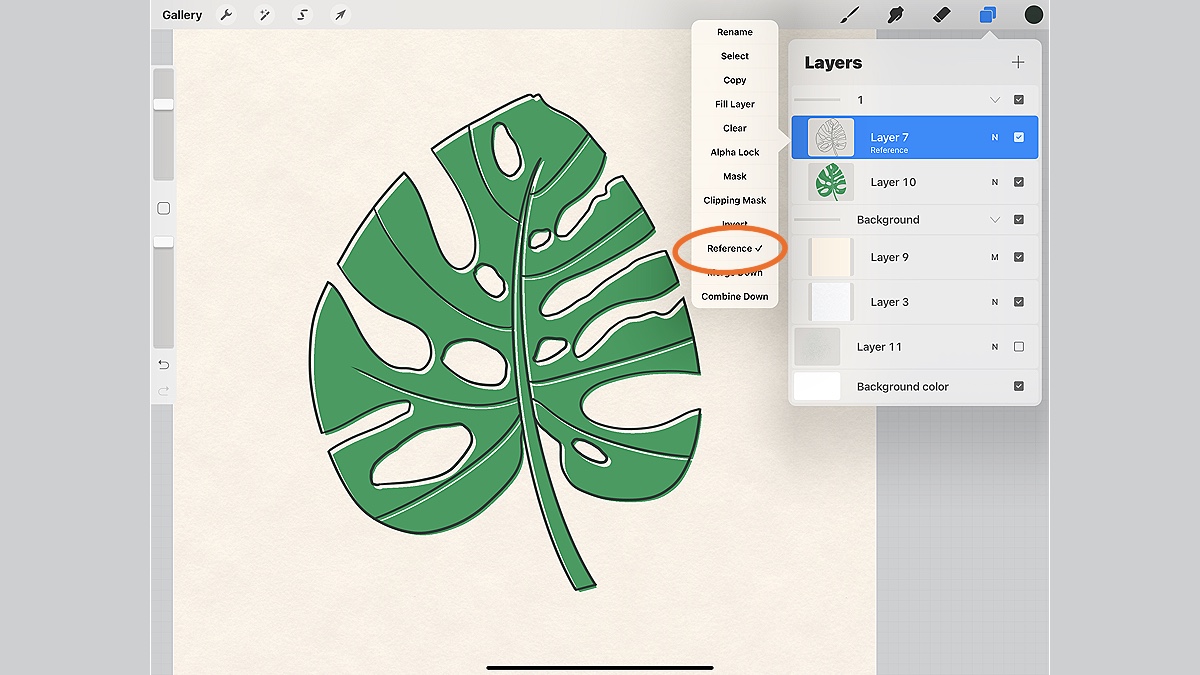 Step 9: Let's add some texture!
One benefit of having the color on a different layer is that you can easily apply texture just to the color layer. It won't get on your line work this way. To do this, use a Clipping Mask. Add a new layer above your leaf color. Tap the menu that pops up to the left of that layer, and hit Clipping Mask. That way, your texture will only apply to the green leaf below.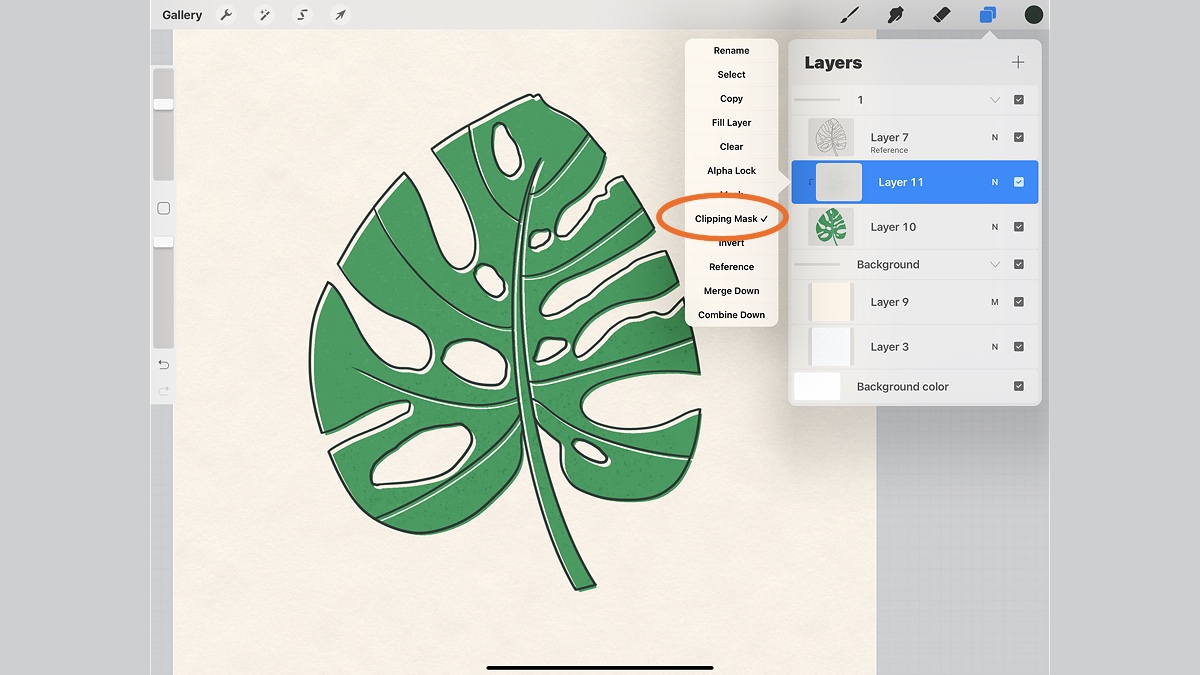 I'm using the TPL's Watered Down brush from the Grit set for texture. I'm choosing colors that are just a little lighter and darker than the leaf to add just a bit of texture.
And we're done! Let's connect! Follow me on Instagram @kelleybrenburke. If you share your animation on Instagram, please tag me #createwithkelley or #kelleybrenburke.
I'd love to see your creations!
Kelley is a self-taught illustrator, animator, doodler and educator. She creates art on her iPad with Procreate and is excited to share her love of the illustration app with artists of all levels. Check out more of Kelley's tutorials here.
---
Want to come back to this tutorial later? Just pin it!