How To Creatively Make a Dutch Door Bullet Journal Cover Page
Jan 31, 2022
Today, I'll show you how to incorporate a dutch door creatively into your bullet journal monthly cover page.
Hi Friend, I'm Maira with Vial Designs, bringing you this tutorial today as part of the Pigeon Letters Design Team. Today, we're creating this beautiful dutch door bullet journal cover page step-by-step.
If this is your first time hearing about dutch doors and don't know what they are, don't worry. I gotcha!
What are bullet journal dutch doors?
A dutch door is a way of cutting one or some pages of your bullet journal so you can make certain information visible or to add more information to your spreads.
Dutch doors are useful because you can have an overview of your title or something you want to keep in mind and don't have to write it over and over again on each page.
The important thing is to keep in mind what is the thing you'd always want to see when you're using a dutch door.
If cutting the pages of your bullet journal makes you scared, don't be! I'm going to show you a creative way you can incorporate dutch doors into your bullet journal cover page.
Let me show you how I created this one for my bullet journal January Cover page with this step-by-step tutorial.
Before we start the tutorial, let's talk about what I'm using. You can use whatever you have available to you!
Want to watch this tutorial instead?
Supplies
Journal - I'm using an Archer and Olive journal (use "thepigeonletters" for 10% off)
The Pigeon Letters Monoline Studio pen 03
Finetec metallic color pallet

Karin brush marker pro (you can use any waterbed markers)
Pigeon Letters round brush 04

Cutting tool - I'm using a precision cutter, but you can use scissors or an exact knife

Pencil

Eraser

Water

Dropper
OPTIONAL: heat gun to speed up the drying process.
Step 1: Sketch the Design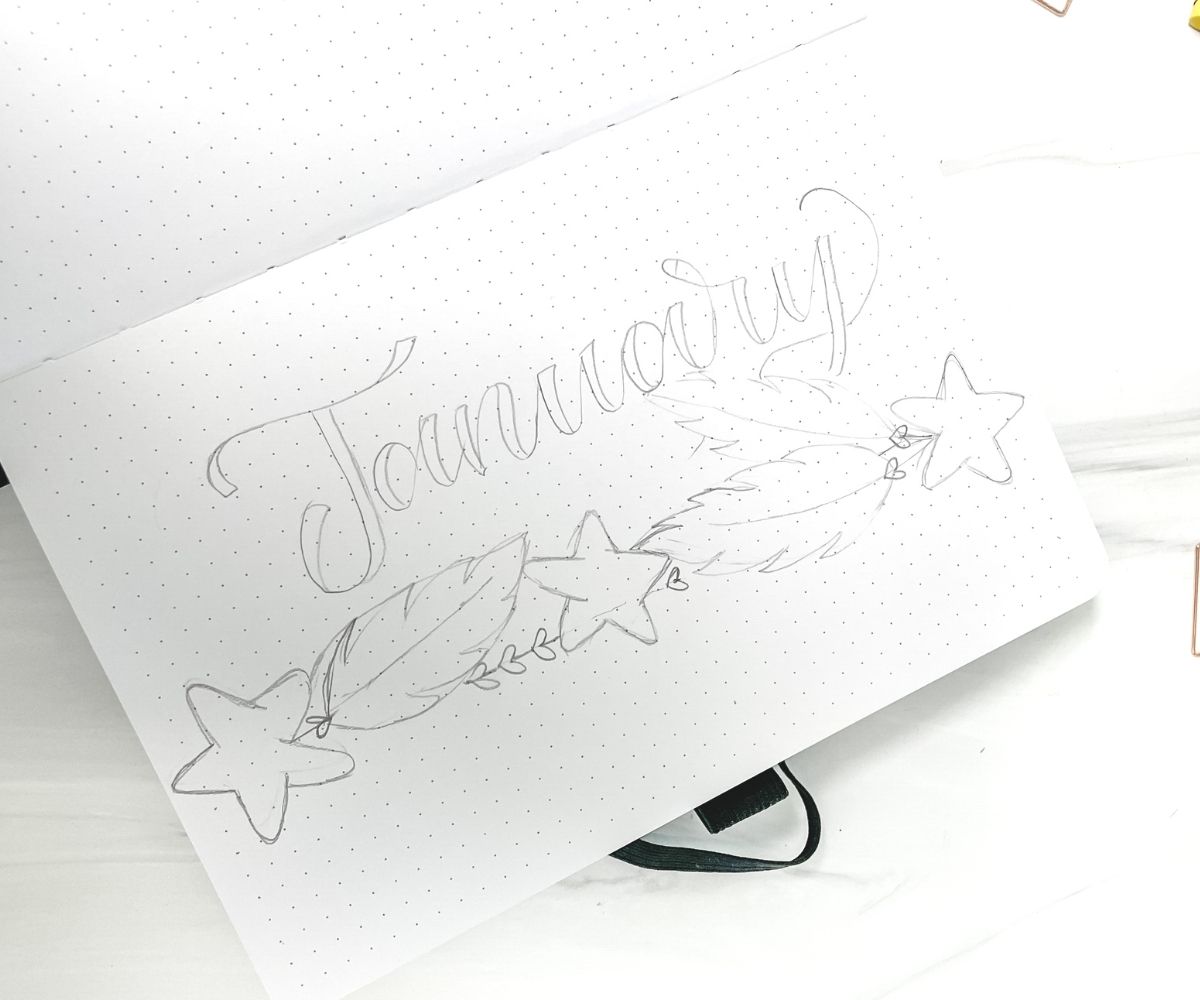 First, sketch the design you want for your cover page.
Before you sketch, keep in mind the size of the dutch door you'd want to have. For this cover page, I counted 8 squares from the edge of the journal to start sketching my stars and feathers doodle. Then, I wrote January using Faux Calligraphy.
If you'd like to dive more into Faux Calligraphy, I got the perfect printable workbook to help you - try it out!
Step 2: Outline Your Design and Paint It
I'm outlining my stars and feathers doodle design using my Monoline Studio pen 03.
Once, done with the outline part, be sure to erase all the pencil marks from your sketch.
The first thing I'm going to paint is the stars using the Finetec Metallic paint.
Before we start painting, we need to activate the Finetec Pallet. Using a dropper, add some drops of water into the paint. Then, using your brush, mix the water and the gold paint.
Once you like the consistency of the paint, start painting your ornament drawing.
If your paint starts to dry, simply add more water and mix again with your brush. You might have to do this a couple of times while painting the ornament.
I decided to add a second layer after the first coat was dry, just because I wanted the gold color to pop a little bit more. Now, it's time to finish painting the rest of my stars and feathers doodle as well as my January Faux Calligraphy.
I'm using my Karin Brush Marker pro as watercolor to color these part of my cover page. Doing watercolor on your bullet journal using water-based markers is super fun! I love these Karin Markers, but you can use any markers (water-based) you have available.
To use your water-based markers for watercolor painting in your journal, simply grab a non-absorbing surface, like a porcelain tray. You can use a plastic bag or laminated paper as well. Dab some color into your porcelain or glass tray, then use a brush with water to grab the color from the tray.
As you are painting, keep repeating these steps with all the colors you'd want to add to your doodle and lettering.
If you want the color to be more saturated, grab more paint and add less water or add more water and less color if you want a more subtle color in your doodle.
IMPORTANT TIP: make sure the paper on your notebook or journal is thick enough to resist water or paint. This Archer and Olive notebook paper is 160 grams, which means is so thick that can resists watercolor and most types of markers without bleeding to your other side of the page or other pages.
This is how the January cover page looks before we do the dutch door!
Step 3: Cut Your Cover Page
This is the only time you don't have to be scared about cutting the pages in your bullet journal. Because you're making them functional and making them work for you!
First, draw an outline around the doodle using a pencil. This is so you have an idea of where you'll be cutting your dutch door.
Once I knew where I wanted to cut, I lightly erased the outline. Then, using a precision cutter or cutting tool of your choice, cut around your doodle.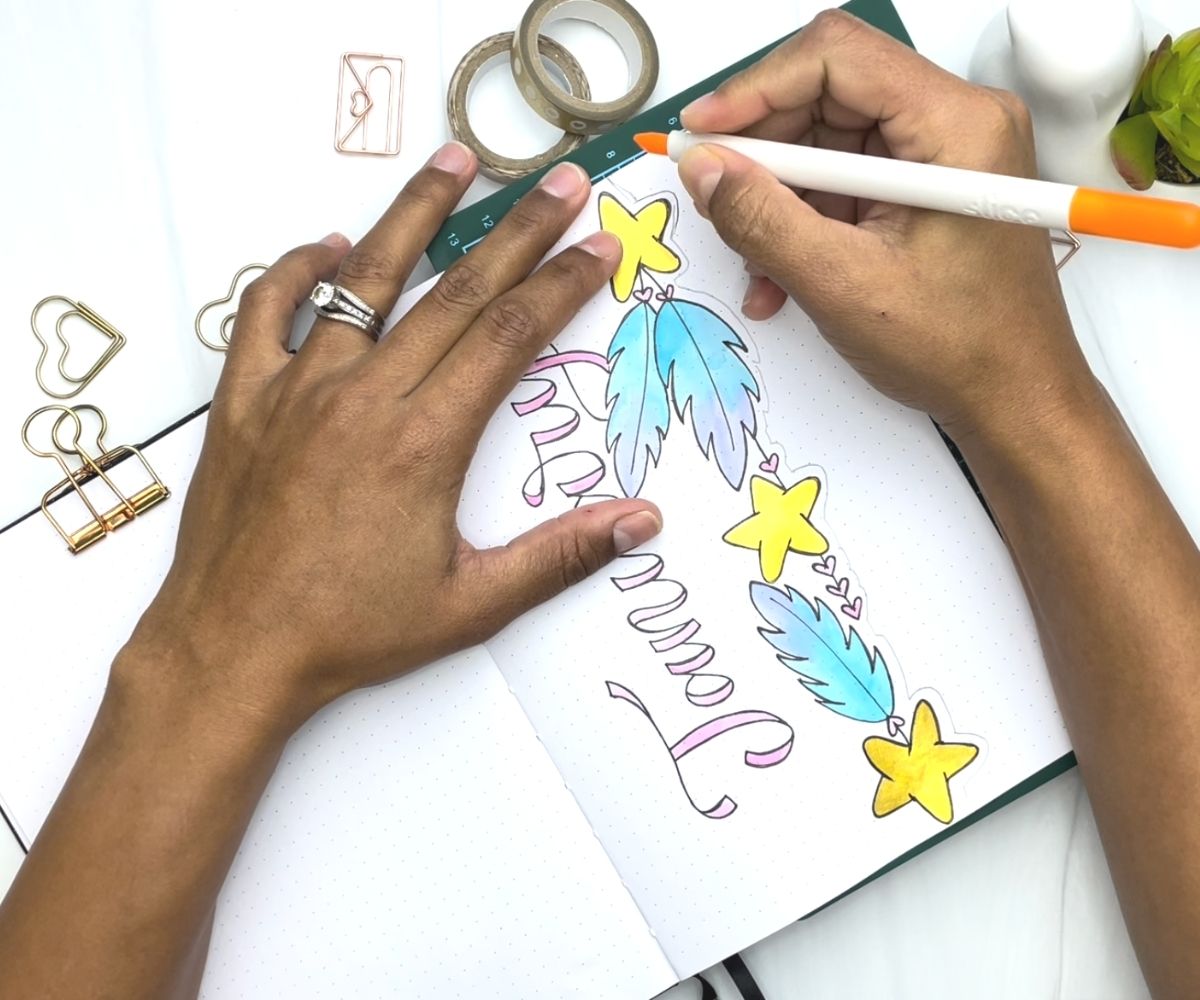 PRO TIP: make sure you put something thick enough in between the page you're cutting and the rest of the pages. This is so you ONLY cut the page you're doing the dutch door on.
That's it! You made a beautiful dutch door cover page in your bullet journal.
Behind my cover page, I wanted to add an intentions and affirmations page. I also added a calendar next to it, which I wanted to be visible through my cover page, and this is the reason I made the dutch door in the first place!
I hope you enjoy this tutorial and was helpful and inspirational for you! If you re-create this dutch door be sure to tag me on Instagram @vialdesigns - I'd love to see your work.
Maira is a Colombian artist living in sunny Florida, USA and has been creating art for as long as she can remember! After discovering calligraphy 6 years ago, she hasn't stopped practicing and learning, which has sparked her passion for helping other women become more creative by learning calligraphy through her easy-to-follow step-by-step tutorials. Check out more of Maira's tutorials here!