How to Make a Gouache Plant Illustration in Procreate
Jun 02, 2022
Do you want to create a realistic, looking-like-gouache illustration in Procreate? With this tutorial of a fantasy houseplant in a pot, I've got you covered. This tutorial is beginner friendly, so even if you are new to Procreate, you'll be able to create this illustration, step-by-step!
Hi, I'm Brenda Bakker from The Pigeon Letters Design team, an artist and Skillshare teacher based in the Netherlands.
Supplies:
Want to watch the tutorial instead?
Step 1: Import the Canvas and Sketch
Start off by making a sketch on the layer directly below the paper texture group. Set this layer to multiply and lower the opacity.
Step 2: Color the Plant Pot
Create a new layer underneath the sketch layer and color in the bottom part of the plant pot with a gouache brush. Create a new layer above this one and color the top half of the plant pot. You'll notice how things are starting to take shape!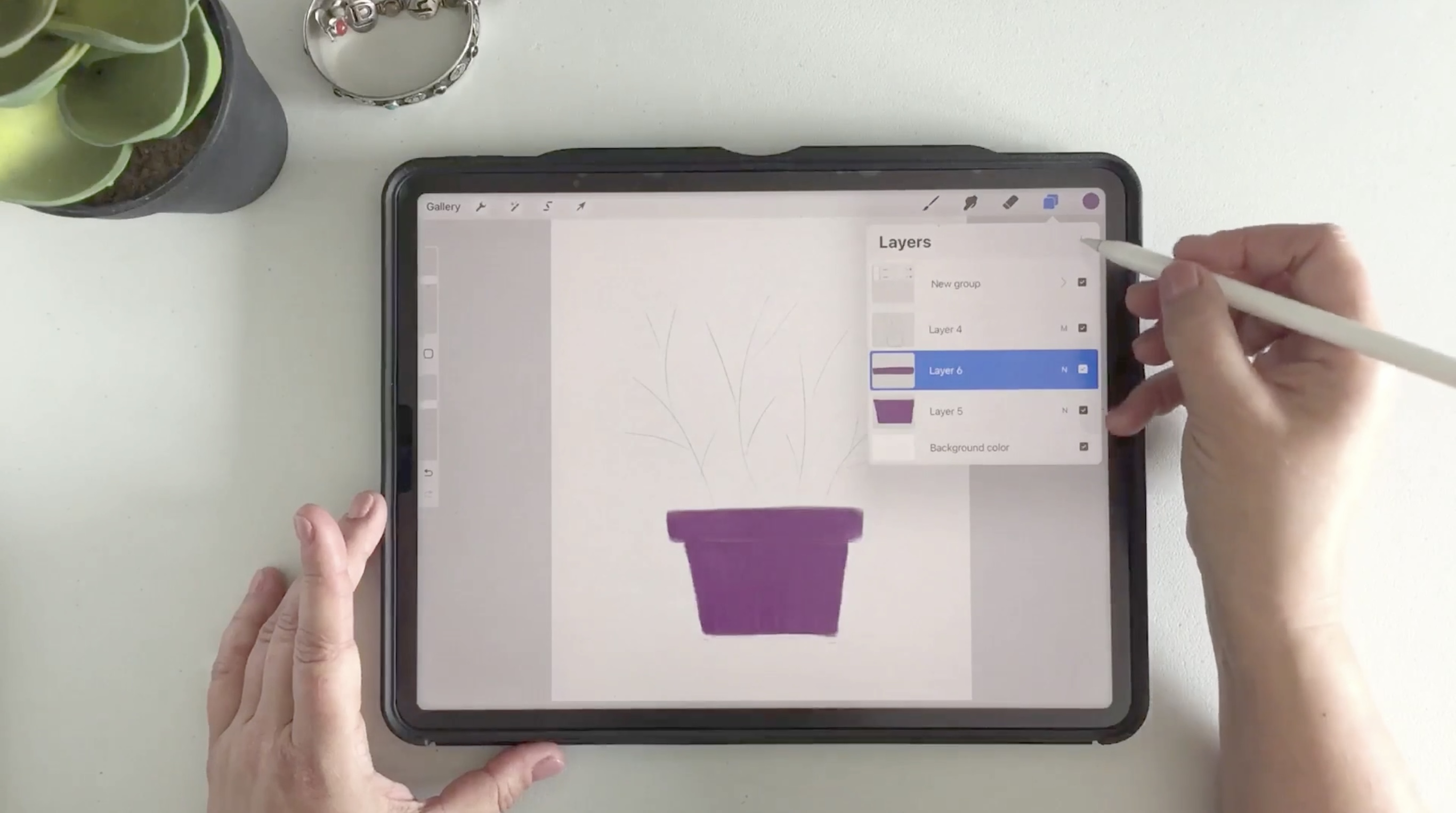 ---
Need some more plant inspiration? Grab a copy of Peggy's best-selling Botanical Line Drawing book.
---
Step 3: Draw the Stems
Add a new layer below the plant pot layers and color the stems with a dark green color. Do them randomly for a more organic look and use an opaque gouache brush at a smaller size.
Step 4: Draw the Leaves
Create a new layer above the stems and draw random leaves in three different green/blue colors using a pressure sensitive brush. Do this with a flowing movement and change pressure as you would do it with an actual brush. This will create a nice, organic feel to your leaves!
Step 5: Add Shadows to the Plant Pot
Create a new layer directly above every colored plant pot layer, then set those plant pot layers as a clipping mask with an overlay blend mode. On both layers, choose black as your color and create shadow on the left and lower parts of the pot. You can lower the opacity of those overlay layers to your liking (to a bit darker color as the layer below).
Step 6: Add Spray Texture
Create a new layer on top of the leaves, set it to clipping mask and overlay. Choose black as your color and use the TPL Spray Noise Brush from the TPL Grit set (or another lovely texture brush of your choice). Create some texture on the lower part of the leaves - you can really start seeing them come to life now!
Step 7: Add Shadow to the Leaves

Make a new clipping mask on the layer you created at step 6 (a clipping mask above the previous clipping mask - that's a lot of clipping masks!) and set it to overlay. Use black color and a pressure sensitive gouache brush to create shadows on the left and lower parts of the leaves.
Step 8: Add Highlights to the Leaves
One more clipping mask! Create a new clipping mask on top of the previous layer but this time set it to screen blend mode and choose orange as your color. Create highlights on the top and right side of the leaves. Play with the opacity to your liking for the desired effect.
Step 9: Add More Fun Texture
Add another clipping mask layer on top and set to overlay. I created fun stripes with the TPL Spiro brush from the TPL Brush Lettering pack, but you can choose any brush depending on the result you're trying to achieve.
Step 10: Add Highlights to the Plant Pot
Create new clipping masks on both of the pot layers, set blend modes to Screen and choose orange as your color. Add highlights to the right side of the plant pot with the TPL Noise Brush on both layers again.


Step 11: Create A Colored Background
Add a new layer all the way on the bottom, choose a complementary color (in this case green) and create a large square with a gouache brush.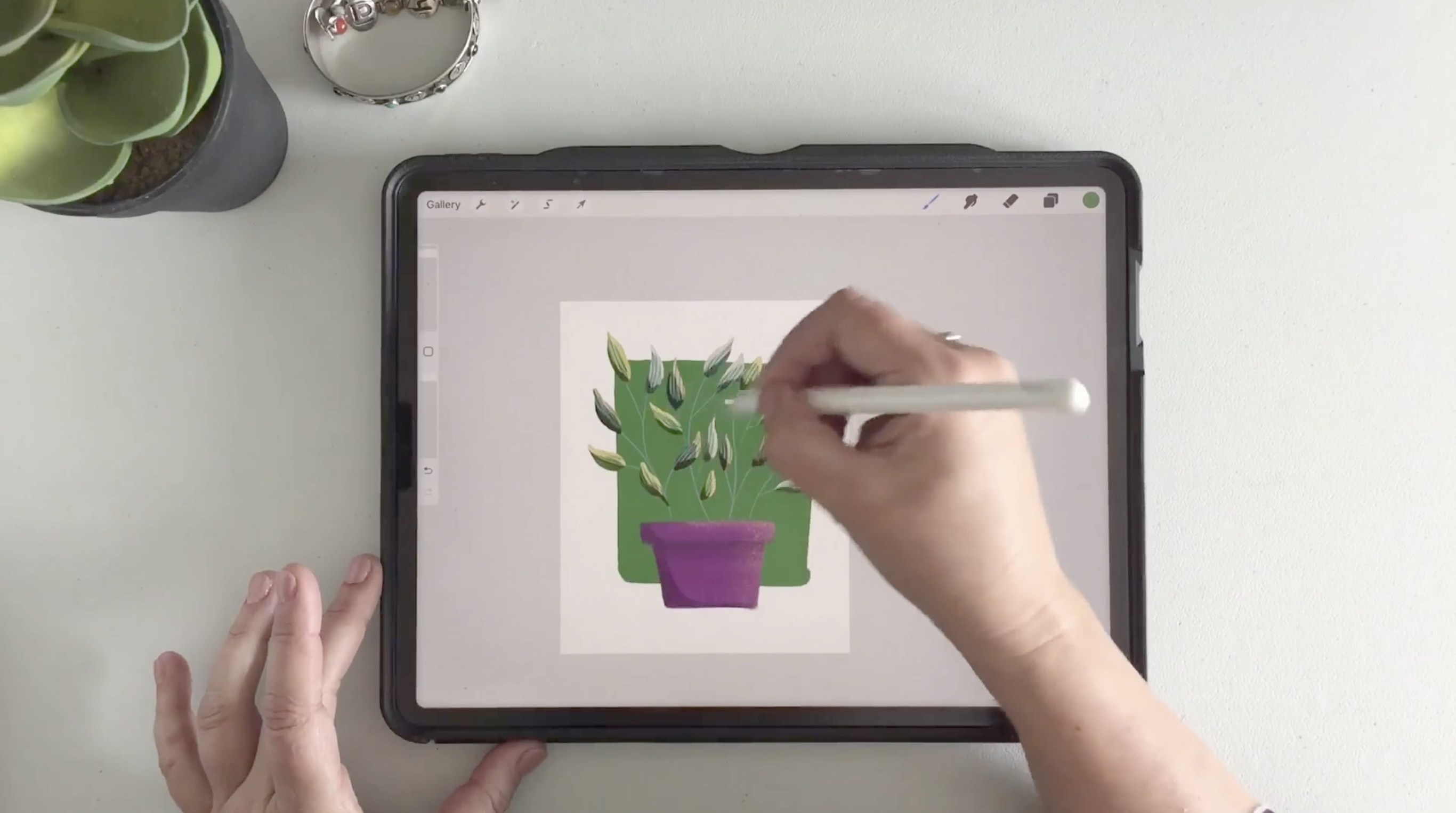 Check if the colors still pop to your own liking. In my case the stems were almost invisible with the new green background, so I lowered the brightness and created a clipping mask on top of the stem layer. I also put it to Screen and added some highlights with a bit of orange.
Step 12: Create a Drop Shadow
Create a new layer all the way at the bottom, draw an oval kind of shape on the left side (a bit below the plant pot) in black. Reduce the opacity of that layer to a grey shadow of your liking.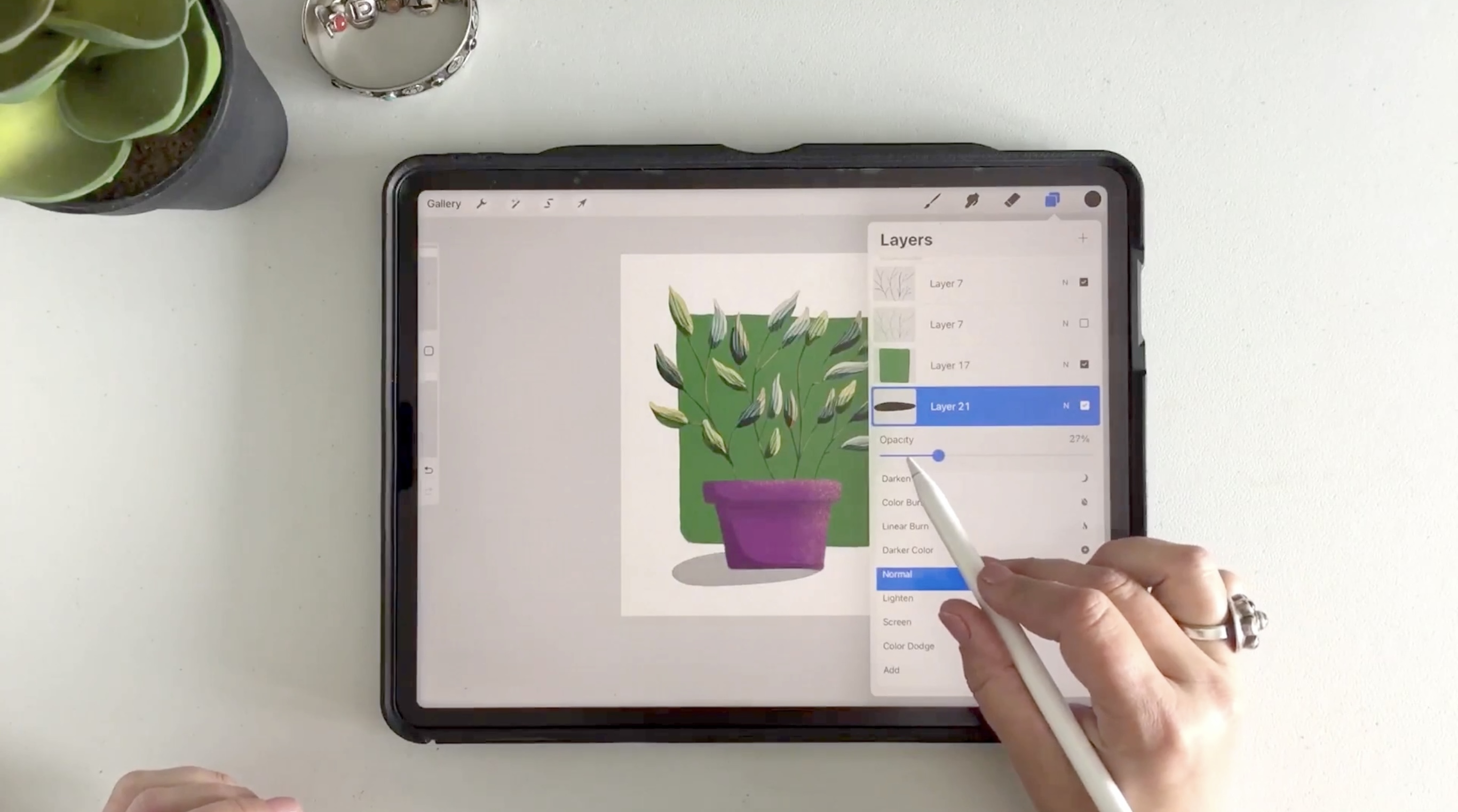 Thank you for joining me in this tutorial. I hope you had fun and learned something new along the way. Tag me @dekwebbel and Peggy @thepigeonletters on Instagram if you post your result, we would love to see them!
See all of Brenda's tutorials here!
Artist, illustrator, letterer and teacher, Brenda Bakker is a Procreate Addict who loves to experiment and explore all kinds of creativity, inside and outside the iPad as well. She loves bright colors, rough textures and smooth color blends.
---
Had fun? Pin this tutorial for later!