How Editing Your Scrappy Doodles Digitally Can Improve Your Drawing Skills
Dec 27, 2021
I like to sketch and doodle everywhere, on scrap pieces of paper lying around, post-its, back of printer paper, and in my sketchbook. I find that sketching on scrap pieces of paper helps me feel less precious about my drawings looking perfect.
I have many "nice" sketchbooks, but I don't like to use these books for sketching. My perfectionist thinking always kicks in and I get stuck worrying about messing up the "nice" paper, and then I end up losing my momentum and not finishing the sketch altogether. So, I am always looking for ways to help break down any walls that get in my way of making art!
Hi friends! It is Leanne here, and today I want to show you how you can bring your doodles and sketches into procreate to edit! And share how this simple task shifted my mindset around sketching and has helped me to improve my art process and artwork!
Supplies
A sketch or doodle to bring into Procreate
iPad
Apple pencil
Procreate
Prefer watching this tutorial instead?
Step 1: Photograph Your Sketch
Take a picture of your sketch. I take photos using my iPhone, but you can also use your iPad.
Pro Tip:
Use the grid when taking pictures with your iPhone, this helps you set up your photo as a flat lay. Go to Settings> select Camera. Turn on 'grid' in the composition section
AirDrop your picture to your iPad.
Step 2: Set Up Your File in Procreate
Open a new canvas in Procreate. I like to use a large square canvas set to 300 dpi, 17"x17". You can use any size of canvas you want to use, but I recommend you set it up first before you import your photo.
Pro Tip:
A large canvas is best if you plan to print your work. For printing work, I would recommend setting your canvas to at least 300 dpi.
Import the photo of your sketch into the Procreate canvas you've set up.
Open the actions menu (the wrench icon)
Select 'Add'
Select 'insert photo'
Select the image of your drawing from your camera roll.
Now it's time to resize and adjust your image. Size and position are completely up to you! This is your time to play around with your composition.
Turn the opacity on the layer down. We will use this layer as a guide and trace over it, so the lighter, the better.
Select the 'N' on the layer to open the layer menu
Bring your opacity slider down to about 20%
Pro Tip:
Turn on your' drawing guide' to help you to align your drawing.
Open the action menu (wrench icon)
Select the 'canvas' menu
Turn on the drawing guide
Select 'edit drawing guide' to adjust the drawing guide settings to your preferences. I like to have mine a light color, and I also turn the opacity settings down to better see my drawing. Feel free to play with the settings and see what works best for you!
Step 3: Start Tracing!
Create a new layer above the layer with your image.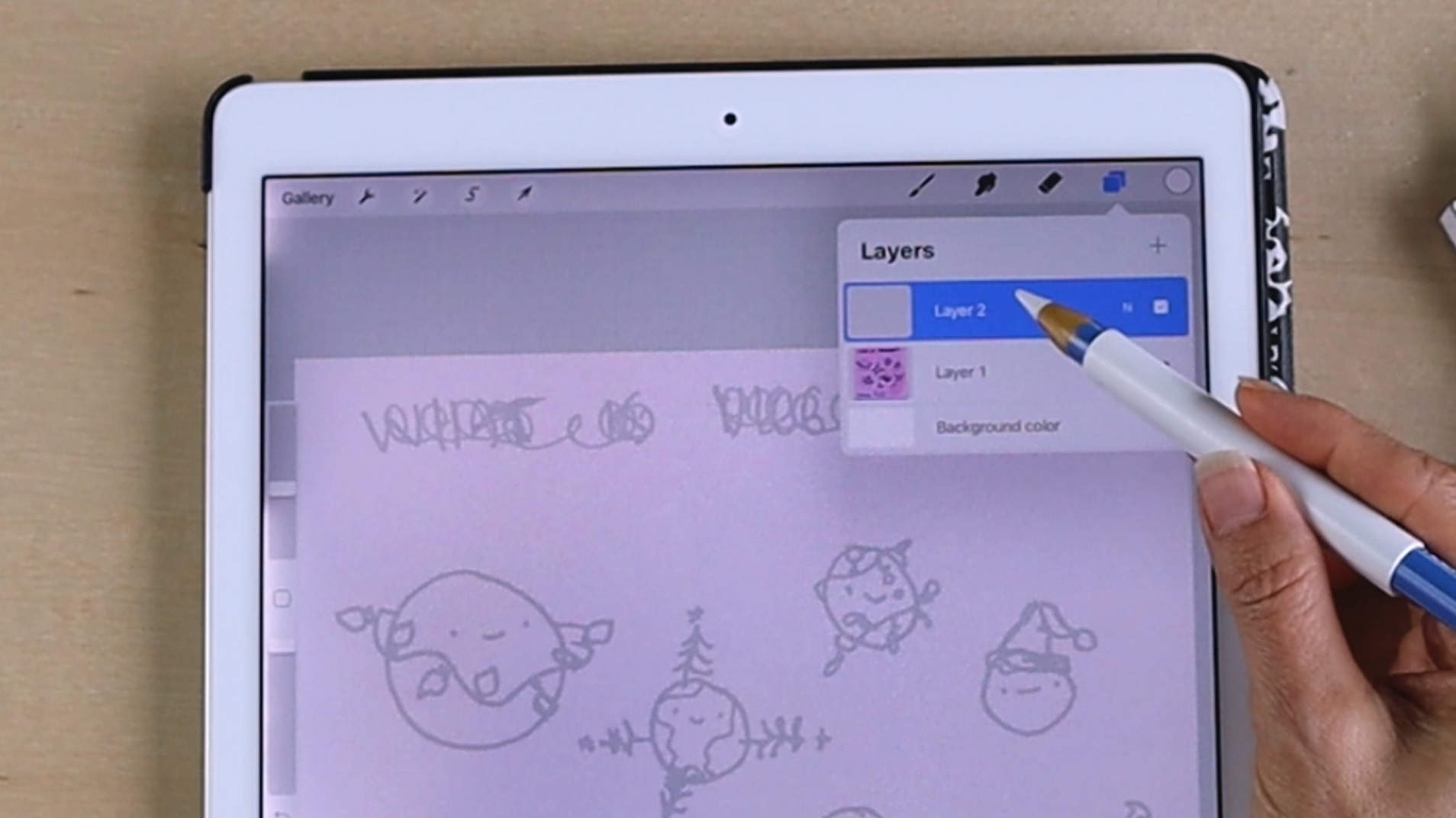 Select the brush you want to be tracing with. I like to use my 6B pencil brush from the procreate standard brush set.
Next, start tracing your image! This is sketch number one, where you can get rid of any imperfections from your drawing and make any necessary adjustments or edits.
Next, outline your sketch. I like to use the TPL classic ink brush.
Once your drawing is outlined and looks the way you want it, the possibilities are endless! That's what I love about combining digital art with traditional art.
Bonus Thoughts
Taking photos of my doodles and sketches and editing them in Procreate has helped me so much. Knowing that any idea can easily be edited digitally with a quick photo has helped me break down those walls that kept me from getting my ideas down. Here's some of the few benefits I've found from shifting my mindset on how I sketch and use my scrappy doodles:
Taking pictures of your doodles and sketches and editing them in digitally will help you move past the 'blank page' hurdle.
You don't have to sketch on a fancy piece of paper or expensive sketchbook, any paper works. This alone has helped me take the pressure off making my work look 'perfect' and helps me to feel less precious about my sketches! (This is a good thing!)
Being less precious about your sketches frees you up to explore and experiment and truly take your artwork to another level.
Editing your work digitally helps to give you the flexibility to use your work in many ways, like:

Identifying elements, you like and easily being able to reuse those elements in different ways with different projects.

Easily try different colorways

Easily play with your scale and composition.

If you want to continue experimenting, save and duplicate your file to make different versions of your file so you can continue to make edits, so you never lose your original work or other versions you like.
It's so fun and encouraging for me to see a cute scrappy sketch turn into a final piece! I'd love to see what you've done with your scrappy sketches and doodles. Please tag me @leannemarkle on Instagram and share your work with me. I'll see you in my next tutorial. Bye!!
Leanne is a self-taught artist, illustrator, educator, wife, and mom located in Seattle WA. She loves to draw cute plants and inanimate objects with a goal to bring more joy, humor, emotion, and happiness into this beautifully complex world we live in. Her work is mostly digital, but she also loves using ink, watercolor, and exploring new materials and mixing media. Check out more of Leanne's tutorials over here!