How To Paint A Beautiful Watercolor Blood Moon
Aug 24, 2021
Did you know that as many as five Blood Moons occur every year? Fascinating, right? Hi! Vanessa Lesniak from @Vanessa_Paints_ here. Today I will be showing you a fun and easy way to paint a blood moon. Grab your supplies and join me with this relaxing tutorial, perfect for beginners and up.
Supplies
Watercolor Paper: Legion Stonehenge Aqua Coldpress
Watercolor: Payne's Grey (M. Graham), Lamp Black (M. Graham), Quinacridone Pink (M. Graham), Permanent Red (Mijello Mission Gold) White: Copic Opque White
Round Object (Helix Maker)
Pencil
Prefer watching the step-by-step tutorial instead?
Step 1: Draw a Circle
Grab a circular object and trace a circle directly in the middle of your paper. The bigger, the better.
Step 2: Paint the First Layer of the Background
Using Payne's Grey (mix a little blue in it to give it more depth), paint in the background. Try your best to stay outside of the circle. We need that circle nice and white in order to achieve the most vivid color possible. Let it completely dry before moving on.
Step 3: Paint the First Layer of the Moon
Using a mixture of Quinacridone Pink and Permanent Red, add color to the moon. Try to keep the left side as light as possible while adding tons of color to the right.
While the moon is still wet, grab some Payne's Grey on the tip of your brush and add it to the right side. Mix in a bit of your red mixture to tone down the Paynes Grey.
Once you are done with the right, add some white to the inner edge on the left side, giving the moon the appearance of light.
Let it fully dry.
Step 4: Paint the Second Layer of the Moon
Add some Lamp Black to your Payne's Grey and paint in a second layer of color to the background. This will help deepen the sky and add more contrast against the bright moon.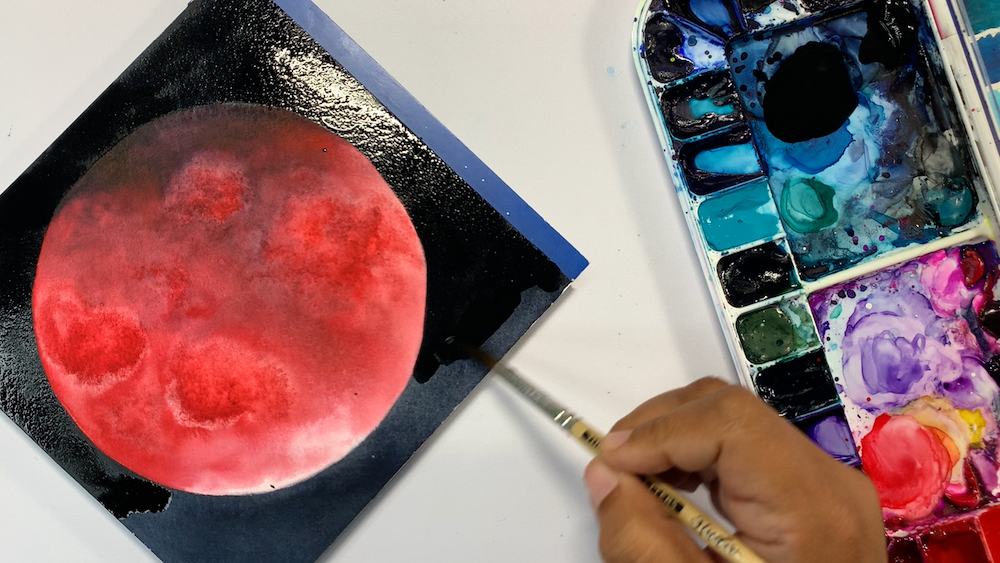 Step 5: Paint the Second Layer of the Moon (Optional)
If you are satisfied with the first layer of your moon painting, feel free to skip this step. Otherwise, repeat step 2, deepening the color as you go.
And with that, your Blood Moon is complete! I hope you enjoyed painting along.
Vanessa spent 16 years as a social worker and originally began experimenting with watercolor as a form of self care and it became a profound passion. With the encouragement and support of her wife and 3 daughters, she became a full time artist and small business owner. She now shares her passion through workshops and online tutorials. Check out more of Vanessa's tutorials here!
---
Feeling like coming back to this tutorial later? Just pin it!