How To Paint A 'Cute' Houseplant In Procreate
Aug 11, 2021
One of my go-to art projects is painting my 'cute' houseplants in procreate using my favorite digital brushes, my trusty monoline ink brush from The Pigeon letters, I use this for everything! And my favorite watercolor brushes from Max Ulichney. Today, I'm going to share how I paint 'cute' houseplants in procreate using ink and watercolor brushes.
Supplies
iPad - in general, the larger iPad you have, the better, both larger in physical size and storage. My iPad and pencil I've had for over three years now! I haven't had any issues so far (knock on wood!). I've made so many great pieces of art with my iPad. So, it doesn't take the newest version of the iPad or apple pencil for you to make great work!
Apple Pencil
Procreate
Inking brushes for procreate: The Pigeon Letters Monoline
Watercolor brushes for procreate: Watercolor MaxPack
Prefer watching the walkthrough instead? Check out the video version below.
Step 1: Look for your houseplant model to use for reference!
I love drawing from life. I think that the is best way to improve your drawing skills! Drawing from my own referenced photos is my second option if I can't draw from life. If you have a cute houseplant, bring them along for an adventure as a reference model! Or you can take a photo of your plant; I like to think about perspective and how I want to draw them when I take the pictures.
*If you don't have your houseplants, you can also look on Pinterest. Remember to be mindful of copyrights. If you're not using your own photos, try to take inspiration from many different photos and combine those elements to make something new! You can also look on sites like Pexels and Unsplash that are free stock photo services. Or you can use my reference photo below as a guide!
Step 2: Set up you procreate canvas
I prefer to have my canvas size set to a large canvas size with 300dpi if I want to print my drawing later. For this project, I used a 1:1 square, 420mm x 420mm. A large canvas size might limit your layer count depending on the size of your iPad. You can set your canvas size to whatever size you want. Just keep in mind if you're going to print your work, you should be drawing at a large scale and at least 300dpi! If printing your work is not something you plan to do, you will not need to work about having a large canvas size.
I also like to use my drawing guide! Using the drawing guide will help with centering, size, and perspective. You can set your drawing guide to a light color, adjust the size to the scale that makes sense for you. I like to have mine set pretty large. I also like to set the opacity to transparent.
Step 3: Sketch
I like to use the 6B pencil in procreate in black to sketch. This pencil is one of the standard brushes in procreate; it's nice because it gives you that sketchy feel!
Loosely sketch your houseplant. I use my sketch to help give me an idea of where the elements are. It helps me to define shapes, size, composition, placement, and proportions! It's so much easier to edit a sketch and move it around than to do this once you've started painting! Again, it's a very loose sketch. It's not going to look perfect, so don't worry about your sketch not looking perfect. 1) there's no such thing! 2) you can finalize your drawing when you outline, and 3) the imperfections of your drawing and painting are what makes your drawing unique and interesting! So, embrace your imperfections! In art and life! ;)
I like my drawings to be stylized, and I also like to bring in some realistic elements. If a stylized drawing isn't your jam, then draw what works best for your style! There's no right or wrong way in art. Which what I love about art.
Step 4: Outline your sketch
Once you are happy with your sketch size, and placement it's time to outline your drawing! I like to use my favorite monoline ink brush from The Pigeon Letters ink brush set. What I love best about this brush is that it gives you a crisp line.
During your outline process, is when you will be making any final decisions about your drawing. While you are outlining your drawing, this is when you can start to add in any additional details you want to have in your drawing. For me, this is where I added my wavy lines around the leaves. I also recommend putting the eyes, mouth, legs, and arms on one layer that's not the same layer as the main outline. It's best to keep these elements on their own layer as we don't want to paint over them So, at this point, you will have three layers, your 'sketch' layer, your' outline layer, and your 'face' layer.
Step 5: Color blocking
Now we are ready to start color blocking!
First, you will want to select your 'outline' layer, open the layer menu options, and select 'reference.' This will use your 'outline' layer as a reference layer! The Reference layer setting allows you to fill and draw on other layers while only referring to a specific layer.
Next, you will create a new layer underneath the reference layer and start color blocking. Select white as your fill color, then drag and drop into the new layer to color fill that part of the outline.
I like to color block in white, especially when I'm working with watercolor brushes. The white background serves as a base layer for your watercolor. Look at your drawing, and determine what elements are going to be different colors. Then, create a layer for each color.
Items that will be the same color can be on the same layer. So, for example, the stems will all be on the same layer. However, I like to vary my leaf colors, having a few be dark green and others maybe light green. So, I will create a layer for my dark green leaves and a separate layer for my light green leaves. The same goes for the front of the pot, which will be one layer, and the inside of the pot will be a different layer, etc.
For example:
Create a new layer (underneath the reference layer).
Fill the pot with white.
Create a new layer (still underneath the reference layer) and fill the inside of the pot white.
And so on.
All this setup will be worth it!! Working with watercolor brushes can be tricky. However, I've found this method has saved me lots of time and helps to allow you to work indestructibly while still taking advantage of the watercolor texture and unique blending abilities.
Pro Tip: Name your main layers. It's helpful to identify the main layers. For example, I named my layers sketch, outline, and face.
Step 6: Painting with Watercolor Brushes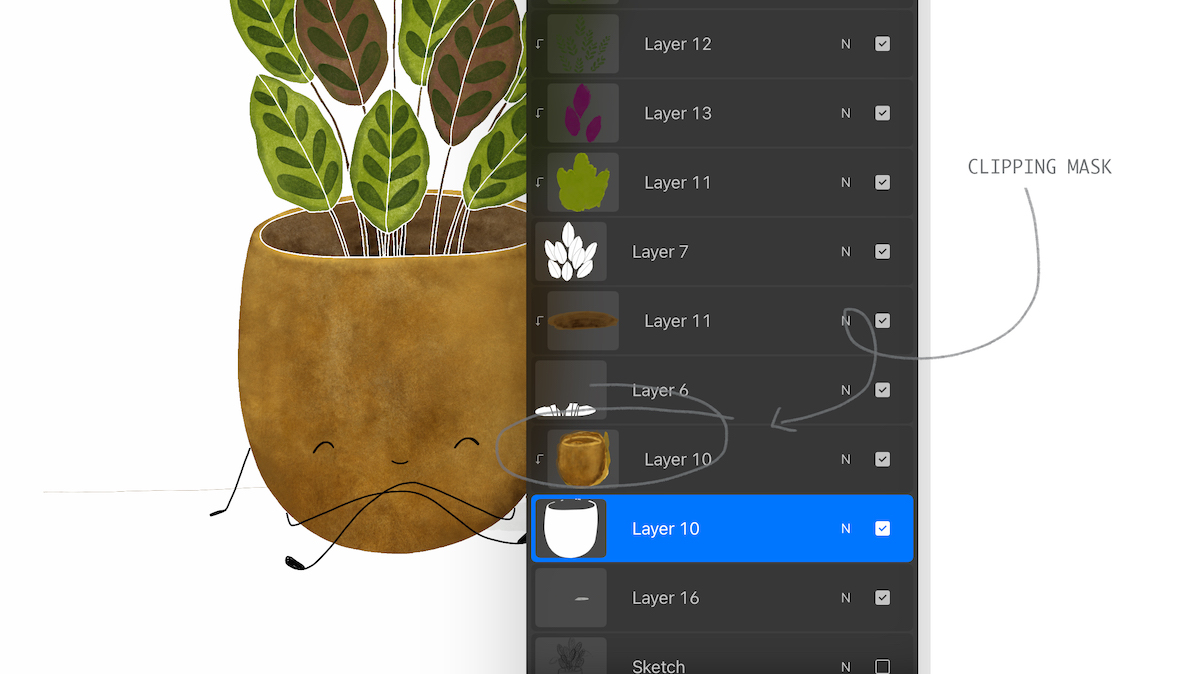 It's time to start painting! The fun begins!! Select the layer you want to pain. For example, select the pot layer. Create a new layer above the pot layer. Select 'clipping mask' from the layer menu. A small arrow will be pointing to the pot layer, and now you can start painting the pot! Also, you will want to determine your light source too. So, you know where the shadows will be.
Pro Tip: Once you pick up your pencil while painting with the watercolor brushes, the watercolor brush will re-set, which means if you want to have one layer of paint, do it by not picking up your pencil.
There are many ways you can build up texture and dimension in your painting when using watercolor brushes in procreate.
These are a few techniques I like to use:
- Experiment with layering different types of brushes on the same layer. The different watercolor brushes will interact with each other and give you many different effects depending on the brush you use.
- Experiment with blending different colors on the same layer and using a separate layer. Both give you a different result.
- Play with the layer opacity.
- Use the smudge tool!
- Add shadows and highlights
Play and experiment with your painting! See how mixing all these different techniques can change your painting and add dimension. For example, I get a different result every time I paint with watercolor brushes in procreate. It's fun to see what happy little accidents can occur.
---
Hi! My name is Leanne Markle (@leannemarkle). I'm a self-taught artist and illustrator, and I'm part of The Pigeon Letters Design Team! I've started collecting houseplants, and my obsession has only gotten worse over the past year that we've all been at home! I'd say I'm getting close to being called a 'crazy plant lady'!
Thank you so much for painting with me today! I hope you enjoyed painting a cute little houseplant with me. I hope you found some inspiration and learned something new in this tutorial. I would love to see what little cute houseplant you painted! Tag me @leannemarkle and @thepigeonletters on Instagram.
Originally from NM, Leanne gets inspiration from nature after moving to the beautiful PNW 20 years ago. She's drawn to the green trees, water, mountains and flowers growing all around her. Making art is all she's ever wanted to do so you can find always find her drawing (and occasionally tending to her rainbow flower garden in Animal Crossing. Check out more of Leanne's tutorials over here!
---
Want to try it out later? Pin away!