How to Paint a Bouquet of Hydrangeas in Procreate
Nov 18, 2021
There are SO many amazing Procreate brushes out there, and sometimes it is really hard to decide on which ones to add next. However, have you ever wondered what default brushes are already at your fingertips in Procreate? If you are just starting out with digital art, this tutorial will be a good way to explore them. On the other hand, even if you are a pro at Procreate and have not touched those default brushes (like me, until recently), maybe it is time to finally test out these "new" brushes that have been waiting on the sidelines for you this whole time!
Hi everyone! My name is Jaclynn and I am the artist/calligrapher behind @dustyjadestudio. Most of my work are created digitally on my iPad and I strive to inspire many others to do the same! In this tutorial, you will learn 3 things:
How to draw and paint a beginner-friendly bouquet of hydrangeas using default brushes in Procreate
How to slightly adjust some brush settings
Are you ready? Let's DIVE in!
Supplies
Since we are using all default Procreate brushes, all you need is:
IPad with the Procreate app
Apple Pencil
Step 1: Create Your Canvas
This step is really important only if you would like to follow my exact formula for the brush sizes that I use. Otherwise, feel free to create a canvas size of your preference, but you would have to guesstimate what brush sizes would work for your own canvas size. In this piece, I am using a canvas size that would fit an 8x10 print, which is 2400 x 3000 px.
Step 2: Create a Color Palette
Here is the list of colors I that used for this piece; however, you can make it yours and select your own.
Go to the colors tab, and on the "Palettes" tab, select the '+' sign to create a new palette. Then go to the tab beside it, which is "Value", and add the following codes in the hexadecimal space:
Sketch outline (step 3), vase texture (step 9) and canvas overlay (step 10): #b9bdc0
Table texture (step 4): #000000
Vase (step 5): #e2e3e1
Flowers (shades of blue and off-white; step 6): #b8c6d1, #8daac0, #3f4f6c, #fffff2,

Leaves (step 7): #b3b299, #677462
Stem (step 8): #bfbcc6
Background (step 10): #eff3eb
This color key will serve as your reference for all the steps below.
Step 3: Draw a Simple Outline
Brush: Procreate Pencil (size: 15%), from the "sketching" category.
Step 4: Outline and Add Texture
Brush: Reed (size: 3%), from the "organic" category.
Add a new layer above your outline. Draw over the existing pencil outline with the reed brush, and add some random horizontal lines of different lengths to your table. Be light in the strokes of your apple pencil.
Step 5: Paint Your Vase
Brush: Larapuna (size: 15%), from the "artistic" category.
Add a new layer above your table layer. Paint your vase with the Larapuna brush. It doesn't have to perfectly fit within the outlines of your sketch. The messy look will give some character to your piece :)
Step 6: Paint Hydrangea Flowers
Brush: Aurora (size: 10%), from the "artistic" category.
In a new layer above the previous vase layer, use the Aurora brush to lightly tap your canvas within the circle outlines made. In essence, you are creating the flowers by way of stamping the brush. Start with the lightest blue color as your first coat of flowers, then moving gradually to darker blues in the second and third coat. Add in a few taps of the cream-colored white at the end. See the progression of pictures below.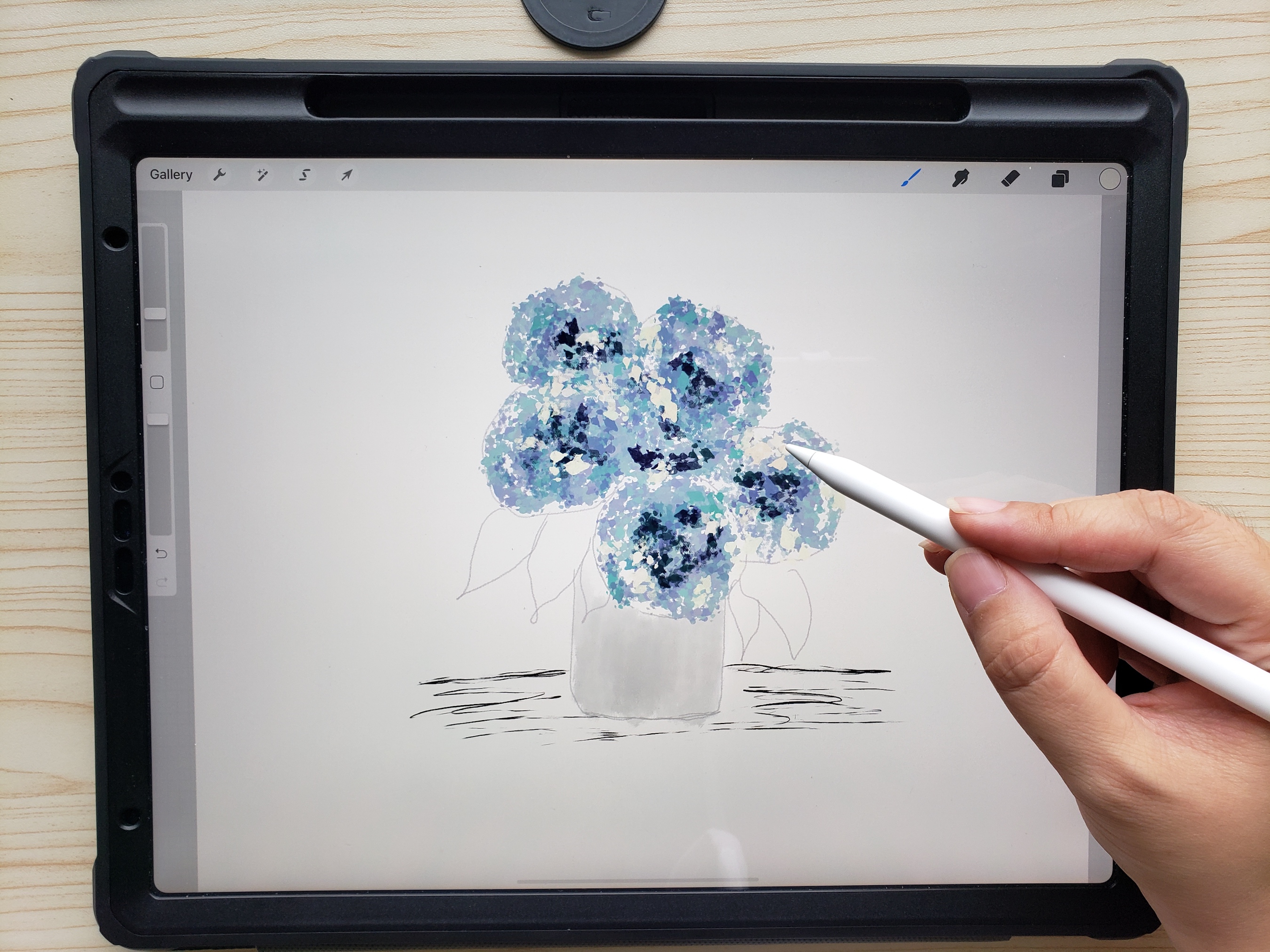 Step 7: Paint Your Leaves
Brush: Gloaming (size: 20%), from the "drawing" category.
Start with the lighter green and fill your leaves with the gloaming brush. Then add some dark green strokes.
Using the blend mode in the same brush at 10% size, blend your colors of the light and darker greens together. Continuing in this mode, add some blending strokes to your flowers as well, but only very lightly, to sharpen some of the hard edges.
Step 8: Add Stems and Petals
Stems
Brush: Reed (size: 3%), from the "organic" category.
Add a new layer above the vase (but underneath your flowers/leaves), draw stems to the hydrangeas using the Reed brush, with light strokes.
Loose fallen petals
Brush: Aurora (size: 5%), from the "artistic" category.
Add some loose flower petals inside and outside your vase using the aurora brush. Mix and match the blues to maintain the definition within the loose petals.
Step 9: Add texture to your vase
Brush: Dry brush (size: 6%), from the "painting" category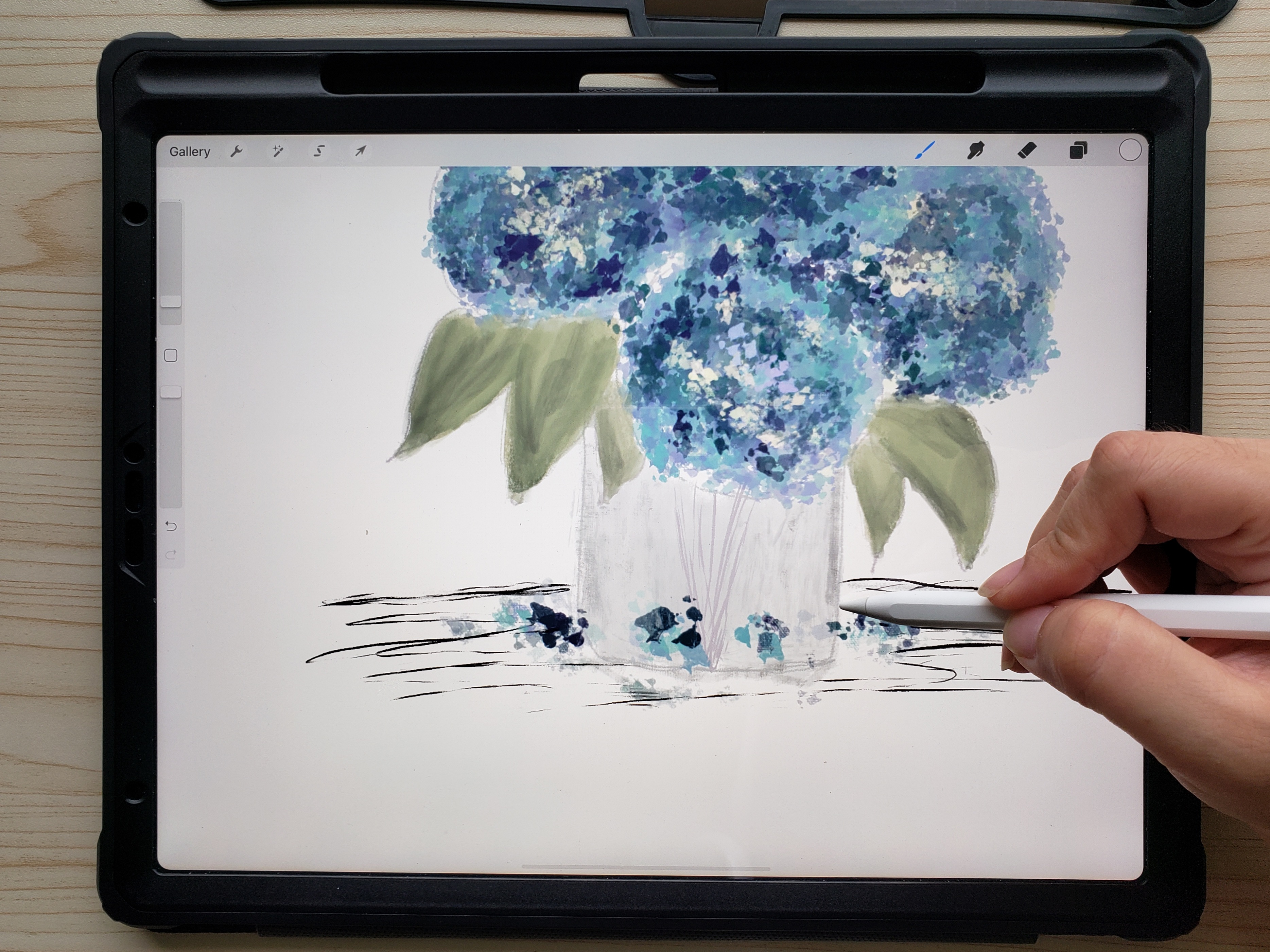 In a new layer, above the previous stems + loose petals layer (still underneath your flowers/leaves), add some texture to your vase. With the dry brush, outline the vase and add some light vertical strokes on the inside of the vase.
Step 10: Add Background Color
Brush: Stucco brush (size: 20%), from the "painting" category.
Add a new layer, and bring that layer to the very bottom of all your other layers. Start painting your background with random strokes just enough to cover the illustration.
Step 11: Add a Canvas Overlay
Brush: Soft Pastel (size: 100%), from the "sketching" category.
Brush adjustment: Duplicate the soft pastel brush by swiping to the left and clicking on "duplicate". With the new duplicated brush, go into its settings. Under "Grain", switch the grain behavior from "moving" to "texturized", and adjust its "scale" to 25%.
Add a new layer. This layer needs to stay at the very top of all your layers. Adjust the brush size to 100%.
Without lifting your apple pencil, fill the whole new layer with this brush to add a canvas-looking overlay to your piece. The picture below shows the difference in the canvas texture with the overlay vs. without
It may not be the perfect texture for a background, but it works if you do not have any other options!
And there you have it! A beautiful painting of hydrangeas piece using only Procreate's default brushes. You can choose to add your own lettering as well!
If you decide to give this a try and post it on Instagram, I would love to see it and cheer you on! Please tag me @dustyjadestudio . Thanks for hanging out with me!
---
Hello! My name is Jaclynn, the digital artist/calligrapher behind Dusty Jade Studio. I am a mom to 3 rambunctious boys and my work is mostly completed during their naps and bedtimes. :)
I love inspiring others to create and am constantly finding ways to make digital art mimic real art as much as possible. I love combining illustrations and words together and my most favorite thing to illustrate right now are florals. You can find more of me and my tutorials on Instagram @dustyjadestudio.
Why not pin this tutorial for later?