How To Punch Up Your Profile Photo
Aug 17, 2021
Let's punch up your profile picture with Procreate! We can change the background, give you a colorful outline - there are oodles of fun options to give you a more creative profile photo!
This tutorial is very beginner friendly. We're using Procreate's Freehand Selection Tool to isolate you from your background, then adding in more details in the layers below you. We're using the Color Harmony tool to select colors that are perfect for YOU!
I'm Kelley Bren Burke. I'm a member of The Pigeon Letters Design Team. I'll be sharing new blog tutorials about creating digital art every month.
If you rather watch me go through this process, check out the video below.
Supplies
iPad
Procreate app
Stylus, such as the Apple Pencil

Brushes: I'm using The Pigeon Letter's Monoline brush from the TPL Ink Pack and two default Procreate brushes - the Soft Airbrush and the Fine Hair brush.
Grab your iPad and let's get started!
---
---
Step 1: Choose a Profile Photo to Use
Tip: It's easier to do this if your hair doesn't have a lot of flyaways or loose curls in the photo. If your hair has a lot of loose tendrils, that will increase the complexity of isolating you from your background. I'm choosing this one, where my hair is lying pretty close to my head.
Step 2: Import Your Profile Picture
Open up Procreate. To import a picture from your Camera Roll, tap Photo on the upper right of your screen. That will take you to your Camera Roll and you can import your photo from there.
Step 3: Isolate Yourself from Your Background
Once you're in your new canvas, tap the Selection ribbon at the upper left of your screen. Tap Freehand on the new menu that pops up at the bottom. Use your stylus to trace around the inside of your image, just right inside where you end, and before the background begins.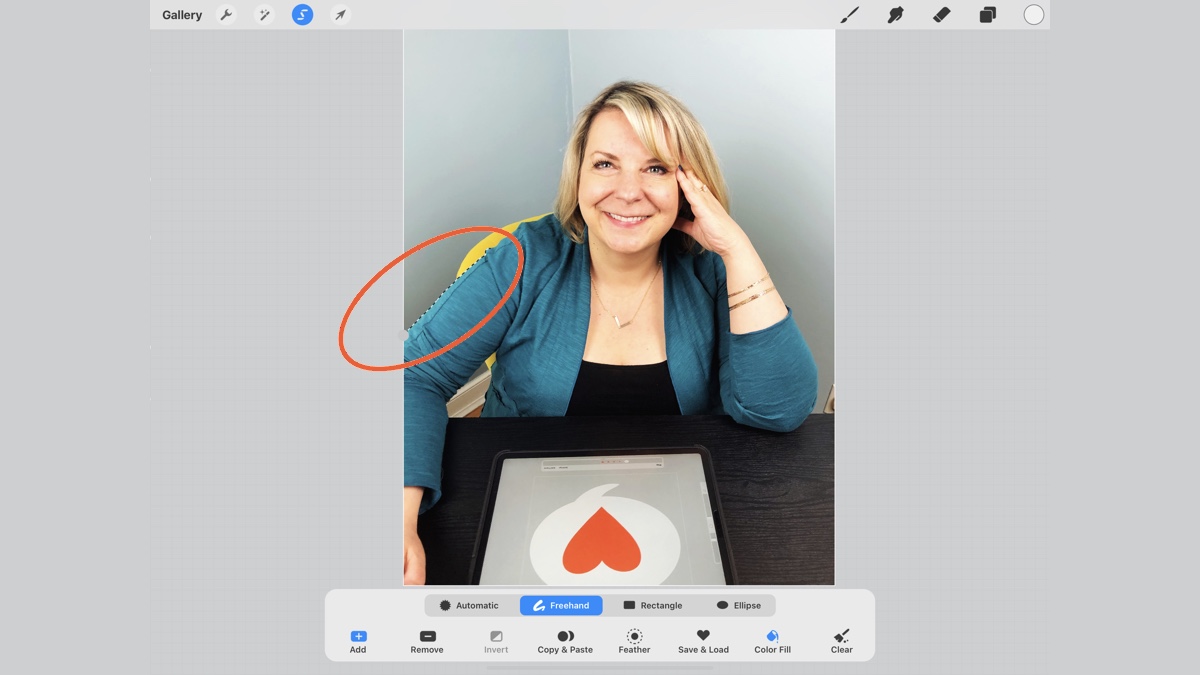 TIP: lift up your Apple Pencil frequently to make relatively short lines. That way, if you have to two-finger tap to undo, you won't undo a lot of line work.
After you've traced all around, swipe three fingers down on your screen to invoke the Copy & Paste menu. Tap Cut & Paste. Now you'll have two layers, you and your background.
Step 4: Touch Up the Edges
There may be some weird jagged edges around your edges, or places where your background is still visible. No worries, we can fix it! I like to use the trusty Soft Airbrush as an eraser to gently smooth out the edges. This is a default Procreate brush. You'll find it in the Airbrushing Set.
Step 5: Add in Flyaways
I'm using the Fine Hair default Procreate brush. You can find it in the Touchups brush set. There are three different hair brushes in that set. I like adding the flyaways in a new layer, above the profile. That way it's easy to see if I like the effect by turning that layer on and off.
Step 6: Draw Outline
Now I'm grabbing the TPL Monoline from the TPL Ink Pack to trace around my profile. Once this is done, you could add more layers below, and keep adding colors if you want. It would look something like this:
Step 7: Change Background Color
Pro Tip: Use Procreate's Color Harmony Tool to find a color that works great with your profile photo. Use the color picker to find a color that's predominant in your illustration. I tapped on my skin to select the peach color of my skin. With your color Palettes open, tap on "Harmony" at the bottom of your palettes. I'm chose the Complementary Color Harmony option, and I'm choosing a blue that's the opposite color of my skin for the background.
I have more ideas for your profile photo! Check out some of these options with photos of me and my sister.
If you'd like more, please check out my new Skillshare class. It's called Punch Up Your Profile Picture with Procreate!
Kelley is a self-taught illustrator, animator, doodler and educator. She creates art on her iPad with Procreate and is excited to share her love of the illustration app with artists of all levels. Check out more of Kelley's tutorials here.
---
Want to save this for later? Pin away!