Retro Doodles Three Ways
Jun 08, 2021
Who says doodles aren't art? They are an easy way to add some character to your sketchbook, bullet journal or even random scraps of paper. There's many different types of doodles you can create, and in today's tutorial I'm going to teach you how to make some easy (and super fun) retro-style doodles!
Hi there! It's Nicole from PlansThatBlossom here and I can't wait to get started with today's tutorial. Let's get stuck in!
Watch the video version of this tutorial below.
Supplies
---
If you're more of a digital doodler, grab yourself some new Procreate brushes and follow along!
---
Step 1: Draw a Television
Start off with a very simple rounded edge rectangle. Once you have that shape built, surround it with a larger rounded edge rectangle but leave a bit of space on the left or the right side of the existing rectangle.
Next, let's draw some knobs! I like to go with two large ones, and two little ones - have to turn that TV on amiright?
Finish it off by adding a fun antenna, and some cute legs to give your doodle some extra character.
Step 2: Draw a Radio
Similar to the television, create another rounded edge rectangle, but this time, make one side slightly taller than the other. Once you have your shape in place, add some fun 50s style lines for the speaker.
Now, let's turn that radio to your favorite station by adding a dial! Two circles with a tiny one in the center make the perfect addition. Then, add two tiny knobs on the top where your rectangle is a little higher, and you have a way to turn that radio on!
Test your antenna skills by creating another style. Personally, I like to add two lines, with one taller than the other, and top them off with teeny circles for some retro flair!
Step 3: Draw a Telephone
Starting with the receiver, create two tiny rounded edge rectangles and space them evenly apart. Once those are in place, curve your lines upward and then connect the edges. Repeat this step for the top but create just a half circle to finish it off.
The body of the phone is an easy one - just make a rounded shape on the bottom of your telephone receiver and a line with two "bumps" up top to create the full shape! For the rotary part of the telephone, draw two circles with a tiny circle on the inside, and add some fun details.
Finally, add your cord by creating a squiggle, and connecting the receiver to the body of your telephone.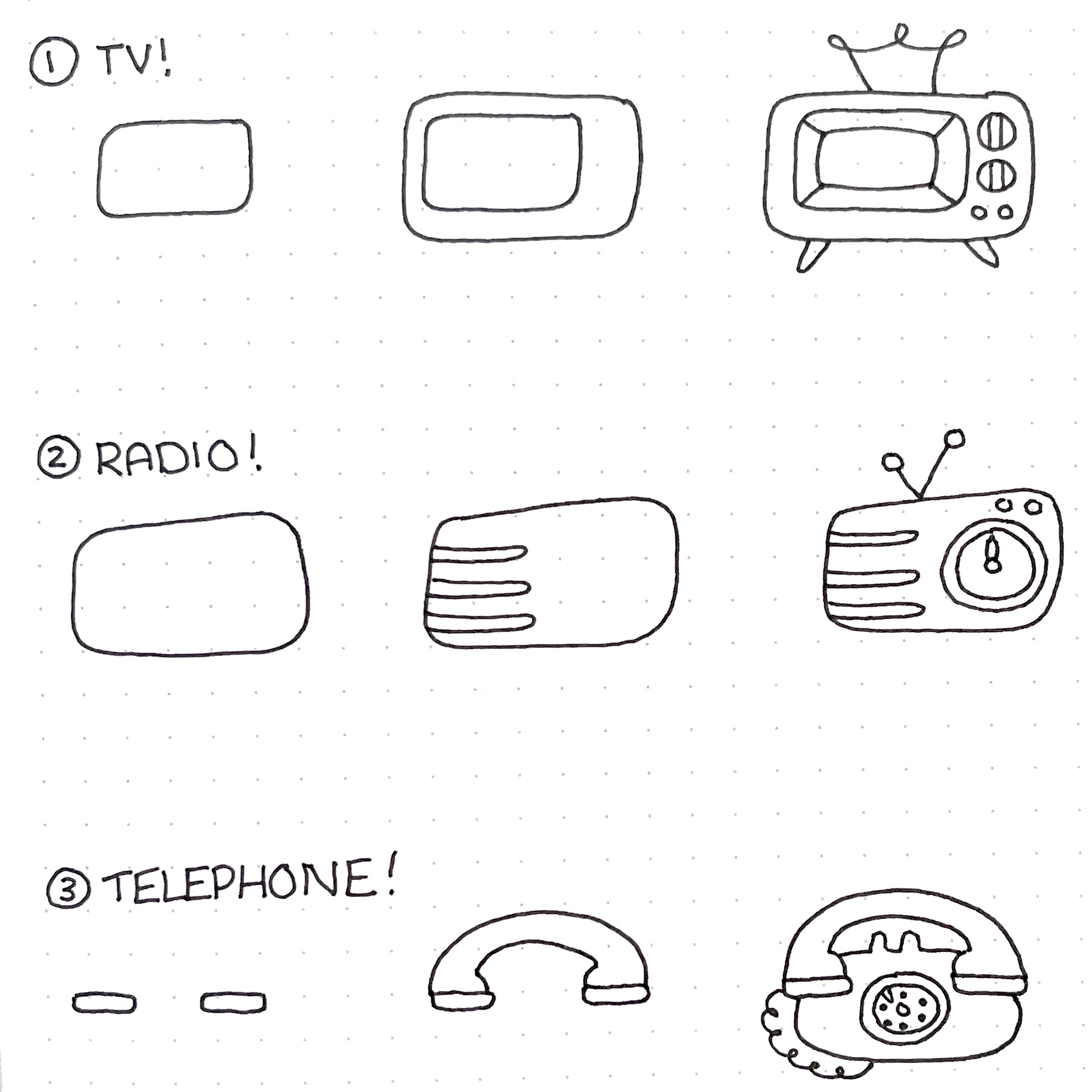 Extra tips!
Keep your edges rounded for that classic retro look.
Add small lines on the inside of your doodles to act as shadows or highlights. This adds a lot of depth and interest to your work.
Don't be afraid to PLAY! Drawing is supposed to be fun. Experiment, add color, and try something new!
Now you have 3 fun retro doodles to create. Feel free to explore and change things up as you wish. The possibilities are endless! Have fun, keep creating and don't forget to tag @plansthatblossom and @thepigeonletters when sharing your results!
---
Want to come back to this tutorial later? Just PIN IT!