Creating a Rewards Tracker in a Bullet Journal
Sep 29, 2022
Need help staying on track to reaching your goals? Check out this fun tutorial creating a rewards tracker in a bullet journal with an extra element of surprise.
I am Natasha Miller, a lettering artist and creative journaler, and I am so excited to share this fun bullet journal layout idea with you today.
Supplies:
160 GSM Bullet Journal (any journal over 120 GSM will work)

Botanical Line Drawing by Peggy Dean
Tombow Mono Permanent Adhesive

Staedtler Pencil Lead Holder in 6H

We 'R Memory Keepers Art Knife

Piece of cardboard

Staedtler eraser
Step 1: Sketch Your Layout
We'll start off by sketching our layout. Leave the left page for listing goals and start sketching your layout on the right.
Start the layout by adding a heading, making sure to leave some space from the top of the page (roughly 3-4 squares).
Next step is to start sketching the florals. I chose to use Moss Roses. You can use any florals you like, just make sure that the petals are wide enough to add writing underneath the petal.
Sketch your flowers in place, adding about 3 flowers to the layout. I am adding leaves to my flowers just to take up some more of the white space.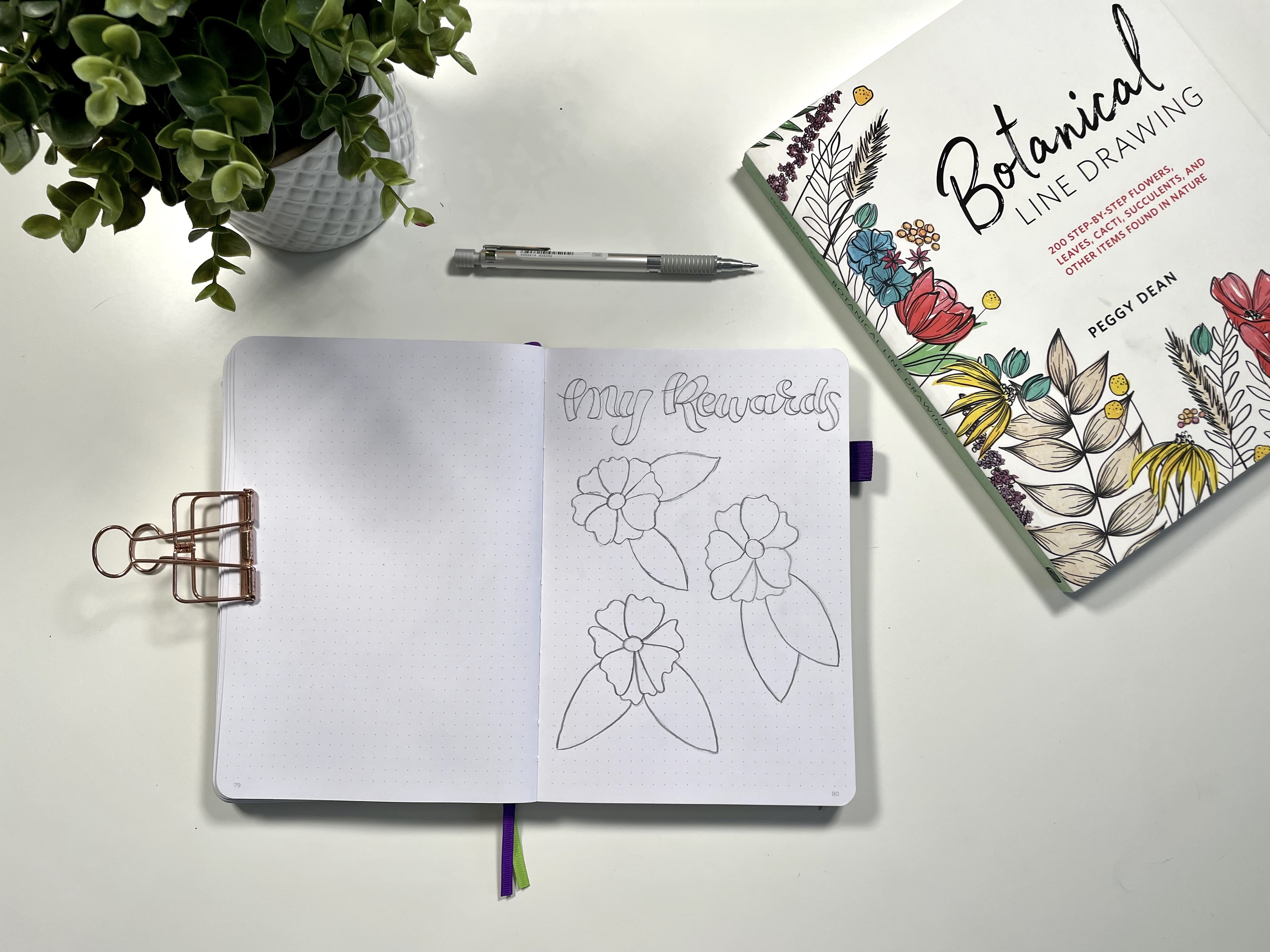 Step 2: Ink and/or Color Your Flowers
Once you are happy with your flowers, you can start to ink them. You can add color at this point too, but make sure not to use watercolor. Watercolor will cause the paper to buckle and affect the outcome of this design.
---
Need some more nature inspiration? Look no further.
---
Step 3: Cut Your Petals
Once you are done inking/coloring, grab a craft knife to start cutting, making sure your blade is sharp enough to manage the detailed edges.
Place a piece of cardboard or cutting mat underneath to protect the rest of the pages in the notebook.
Note: Don't cut petals too close together as this chart relies on the element of surprise, which is more achievable when petals are spaced out.
For the next part, we need to do some measuring.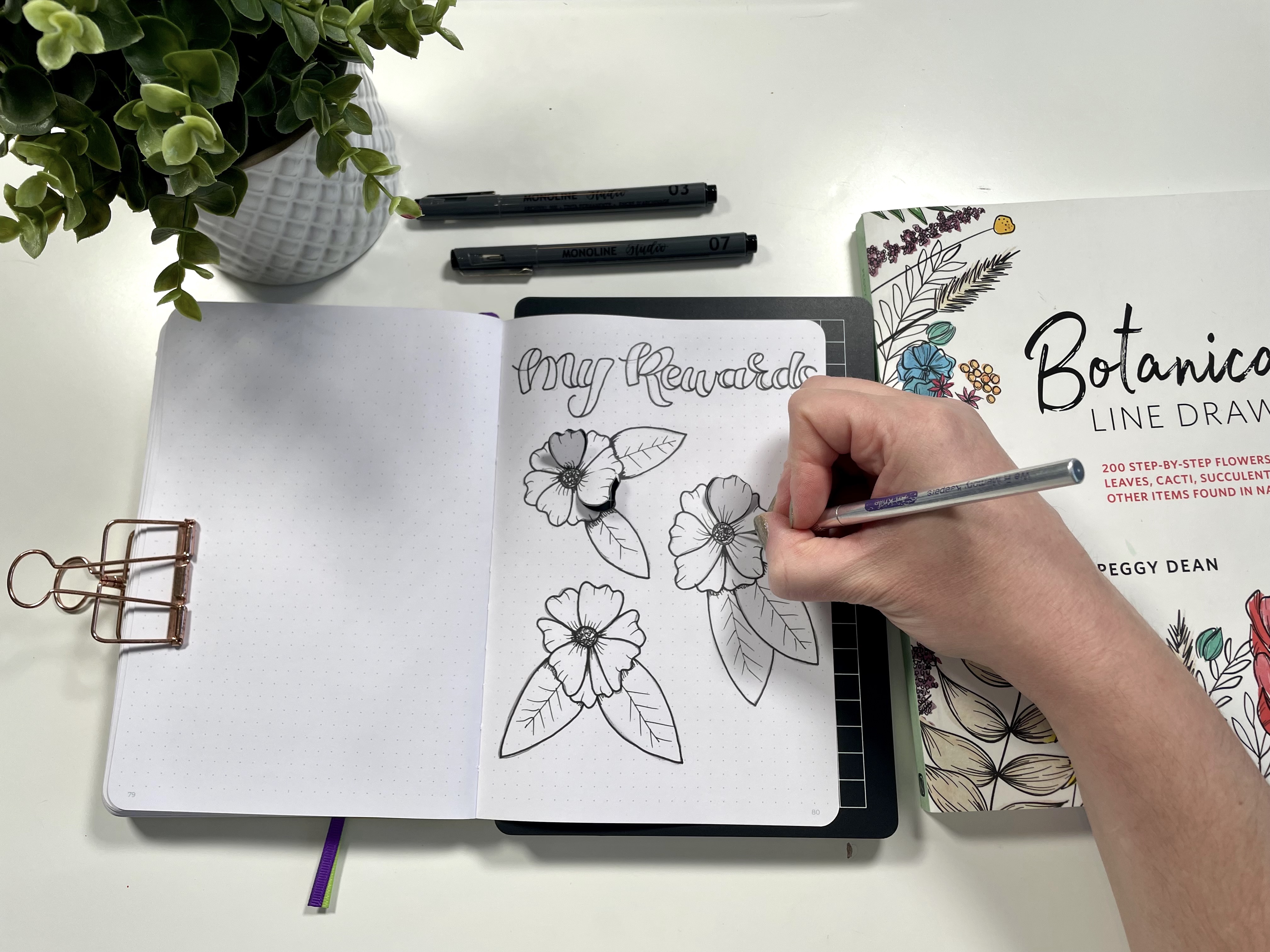 Step 4: Create Your Pocket
Grab an extra piece of paper. Again, it's best that this paper is thicker, so if you're using copy paper, just glue 2 or 3 sheets together to strengthen the paper. I am using a sheet of the 160 GSM paper from the back of my notebook.
Cut this paper (the insert) to size, keeping the width of your glue in mind.
I am using a tape runner with a width of 2 squares, so I am cutting about 2.5 - 3 square border around my extra piece of paper (the insert).
Once measured and cut, cut a notch into the top of the rewards page. Find the middle and cut a notch roughly 12 blocks across and 2 blocks down.
Once you are happy with your measurements, you can start to glue. Glue down the sides and along the bottom (of the floral page), leaving a bit of space from the very top of the sides. This makes it a bit easier to slide the paper in and out.
Now you have a pocket ready for the insert.
Step 5: Complete the Rewards Tracker Chart
Slip the insert into the pocket you just created. Make sure you can easily grab it and pull it out.
Once you are happy with the placement, outline the cut petals with pencil, marking out where the rewards will be written.
If possible, give a Partner or a Friend your list of rewards, and this insert. Ask them to add your rewards into the outlined petal areas. Have them slip the paper into the pocket, and there you have a surprise rewards chart!
Step 6: Reuse Your Rewards Tracker
Once you have earned all your rewards, you can make a second sheet of paper and repeat the last steps to keep going, simply interchanging the sheets when needed.
I hope you enjoyed today's tutorial. And please make sure to tag us (@thepigeonletters and @natashamillerletters), if you give this rewards tracker chart a try in your own journal!
See all of Natasha's tutorials here!
Natasha is a mom to 2 spirited boys, currently living in Alberta, Canada. She is passionate about creative journaling to manage her mental well-being and practice self care. In doing so, she has found her true love in hand lettering and illustration, and hopes to show others the power of putting pen to paper.