Create a Sparkly Animated Collage in Procreate
Mar 11, 2022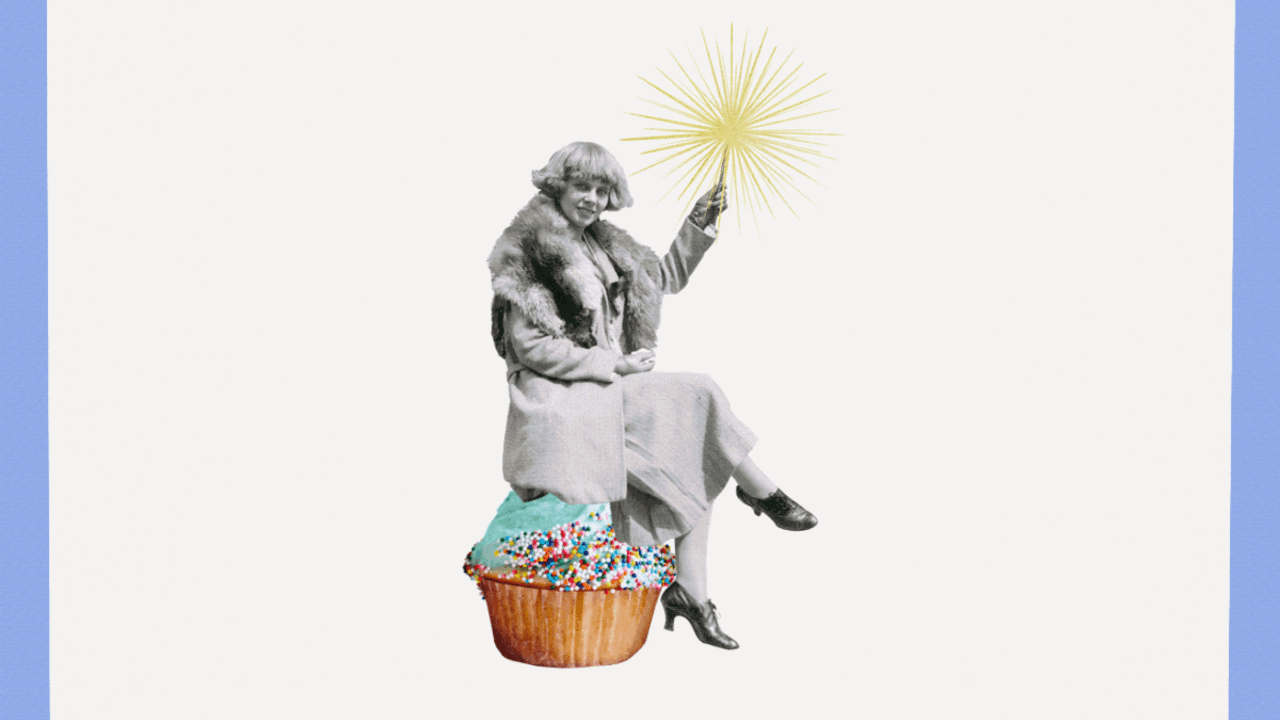 Would you like to add a bit of sparkly fun to your life? Let's create an animated collage together on the Procreate app! The collage includes a colorful cupcake, a vintage photo of a stylish woman, and a sparkler that we'll draw with Procreate brushes. This collage is perfect for birthdays and other festive occasions.
I'll share all the assets that you need to create this collage. We'll use royalty-free images from two of my favorite sites for sourcing beautiful photos.
I'm Kelley Bren Burke. I'm a digital artist and member of The Pigeon Letters Design Team. I I share new blog tutorials about creating digital art every month.
Supplies
iPad
Procreate app
Royalty-free images:
I'll be using Procreate brushes from The Pigeon Letters' Ink Set, including TPL Monoline and TPL Ink Scratch. Feel free to use these, or any brushes you'd like.
Prefer watching the tutorial instead?
Step 1: Create a Canvas
Create a new canvas in Procreate. I'm using an 8 by 10 inch canvas at 300 DPI.
Step 2: Import the First Image
I found these colorful cupcakes on one of my favorite websites for free photos, Unsplash. Want to use the same cupcakes? Here they are, along with other photos you can use to give the sparkler a little gold sparkle.
Step 3: Isolate the Cupcakes
Next, let's isolate one of the cupcakes using Procreate's freehand selection tool.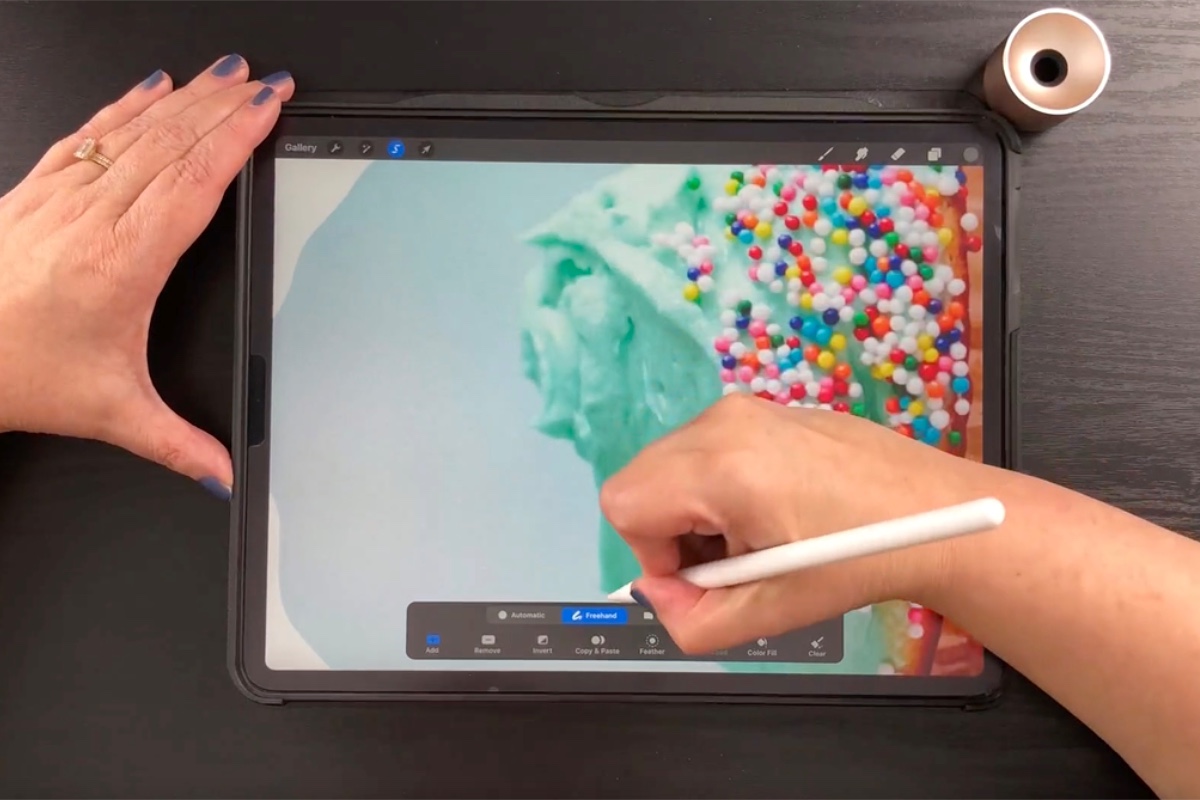 Tap the Selection ribbon at the upper left of your screen. Tap Freehand on the new menu that pops up at the bottom. Use your stylus to trace around the inside of your image, just right inside where you end, and before the background begins.
After you've traced all around, swipe three fingers down on your screen to invoke the Copy & Paste menu. Tap Cut & Paste. Now you'll have two layers, you and your background.
Step 4: Import Second Image
I found our friend who will be sitting on the cupcake on The Commons at Flickr. Her name is Sella Mason. Here she is!
Use the same technique described in Step 3 to isolate Sella from her background.
Step 5: Draw a Border
I'm using Procreate's Drawing Guide to help me draw a border. First, create a new layer. Then turn on the Drawing Guide by going to Wrench>Canvas>Drawing Guide. Toggle that on. Adjust the 2D grid at the bottom of the page until the outer squares are the size you'd like for the border.
Draw the border and color drop your color. I'm using The Pigeon Letter's Monoline and a soft blue hue. Choose whatever brush and color you like best!
Step 6: Draw a Sparkler
Add a new layer above Sella. Choose a gray that's similar to the colors in the vintage photo. Draw a line for the sparkler wand.
Pro Tip: To draw a sparkler that is a nice round shape, let's create a new layer. Let's use Procreate's Quick Shape Tool to draw a perfect circle. Bring down the opacity on that layer.
Next, let's create a new layer above the circle and draw our sparkler.
I will use TPL Ink Scratch brush to draw multiple intersecting lines. It's a great pressure-sensitive brush that provides a natural variation to the width of the lines. Some lines will go beyond the circle, and some will be shorter.
Step 7: Add Gold Foil for Sparkle
Let's make our sparkler all sparkly! You can use any foil or glitter texture you'd like. I have three options for you here.
Import your chosen texture to a new layer right above the sparkler.Tap Wrench > Insert File, and tap the texture you downloaded.
Position the texture over the sparkler, and tap Clipping Mask. This will apply the gold sparkles to the sparkler.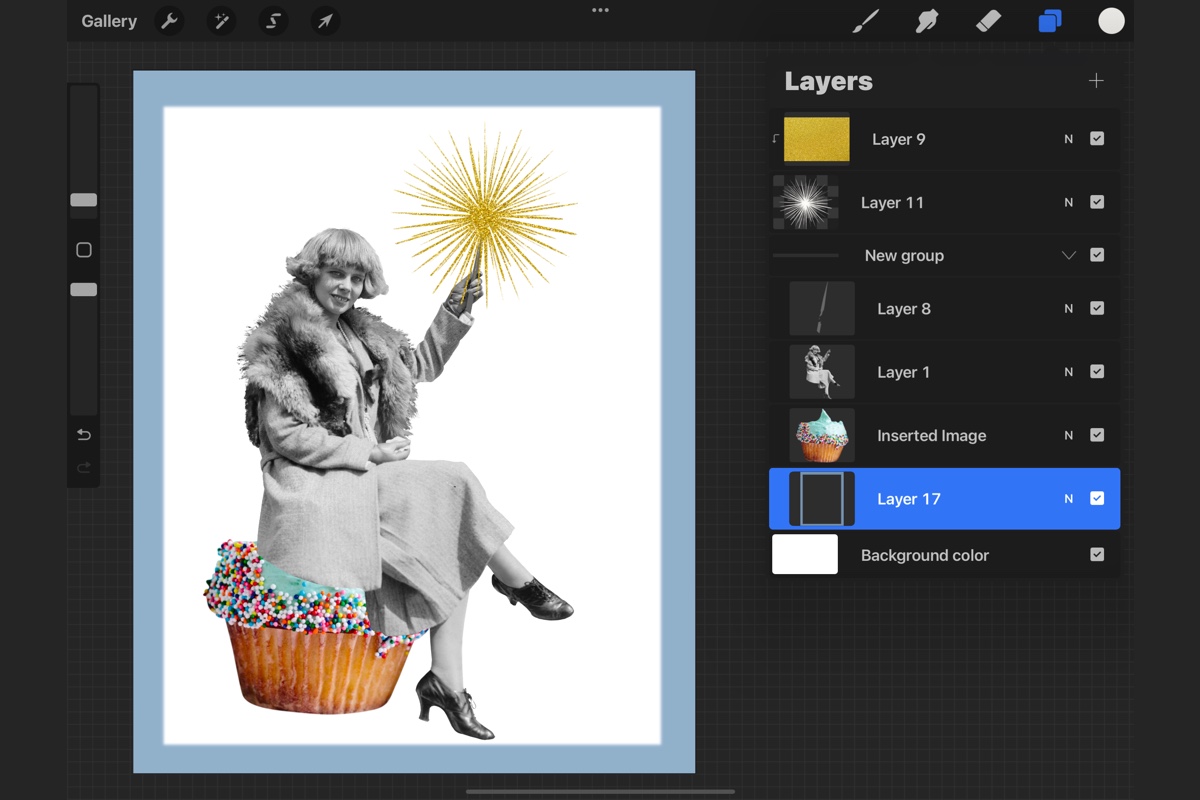 Now you have a fun collage. If you want to take it a step further, let's animate it! It's much easier than you think. I'll walk you through every step.
Step 8: Let's Animate!
Ready for the fun part? Let's animate!
Pro Tip: Whenever I create an animation from an illustration, I duplicate the original canvas, and I use the duplicate canvas to create the animation. I do that to preserve the original illustration as is. I also often bring the size down for the animation.
After you've duplicated the canvas by swiping left on it within the gallery, let's set up the new canvas for animation.
The only thing that will be moving in this animation is the sparkler. So let's pinch the gold texture layer together with the sparkler layer to merge them. Move the sparkler layer on top, and make sure everything else is grouped together below the sparkler.
Turn on Animation Assist by going to Wrench > Canvas > Toggle Animation Assist on. You'll see a new toolbar at the bottom of the page. Tap on the grouped layer on the bottom toolbar, and toggle that on as Background. That way, everything in that group will hold steady, and we will only animate the sparkler.
Step 8: Rotate Sparklers
The animation part is pretty easy.
First, let's duplicate the sparkler layer. The new layer will be on top. Tap the little green nodule, and rotate your sparkler to the right 45 degrees. We're going to repeat this step seven times.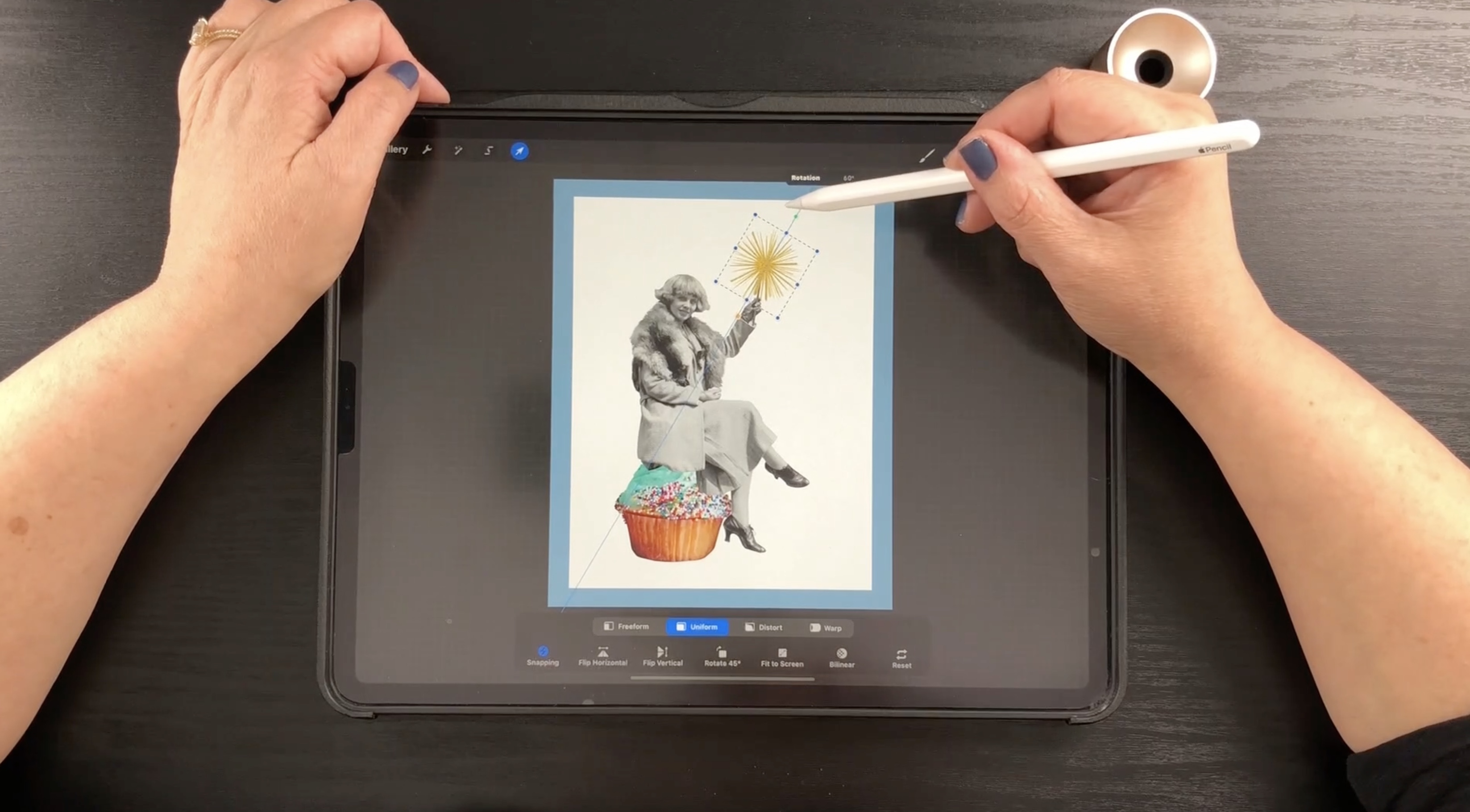 Step 9: Export as GIF
Let's export our animation as a GIF! Wrench > Share > Animated GIF. And you're done!
Kelley is a self-taught illustrator, animator, doodler and educator. She creates art on her iPad with Procreate and is excited to share her love of the illustration app with artists of all levels. Check out more of Kelley's tutorials here.