How to Create a Symmetrical Watercolor Wreath with Procreate
May 26, 2022
Have you ever tried to paint a watercolor wreath that's perfectly balanced? It is definitely a struggle for me! Today I'm going to teach you a short-cut to creating a perfectly symmetrical watercolor wreath! We will paint a pretty floral branch, photograph it, upload it to Procreate and replicate it to create a lovely, balanced wreath that you can use for cards, logos or other projects! It will be helpful to know the basics of watercolor and Procreate for this project, but I will explain and show each step as we go!
Hi all! It's Cris here from the Design Team and I'm kind of obsessed with watercolor wreaths. I actually love painting full, unique wreaths, but sometimes I really want a consistent, balanced look. I use this technique all the time as it combines "analog" art with the digital world to create a masterpiece!
Supplies:
Watercolor paper (140 lbs cold pressed - you only need a scrap!)
Watercolor paints (any paints you like! I used Winsor & Newton crimson, winsor yellow deep, yellow ochre, lamp black and sap green)

Clean water and paper towel for blotting

iPad with pencil and Procreate
Prefer watching the video tutorial?
Step 1: Paint Main Florals
Our first step is to paint our main, larger florals along a slightly arching line. I penciled in a curving line as my "go by" to help keep my floral branch curved. Paint the larger flowers first (I painted three simple, four-petal flowers) in a bright bold color, as this will make removing the background much easier later in our process.
Step 2: Paint Filler Flowers and Leaves
Next fill in around your main flowers with some abstract wildflowers and leaves. These don't need to be perfect or look "real" at all! I kept things very loose here with simple leaves and some abstract yellow florals. Try to keep the overall shape kind of like a crescent moon. Have a few leaves or florals to the "inside" of the curve and a few to the "outside".
Step 3: Photograph and Edit Your Flowers
Take a photo of your completed work with your iPad camera. I like to edit my photos a little before pulling them into Procreate. Crop as much of the excess as you can so you just have your flowers and some white background. Next, try increasing the blackpoint to whiten your whites and try decreasing the warmth if your photo is too yellow. Play around with the exposure if it's dark and maybe even increase the saturation. Again, we're not going for perfection here! Just trying to clean things up a little before we move to the next phase.
---
Ready to fall in love with your new favourite watercolor brushes?
---
Step 4: Bring Your Photo Into Procreate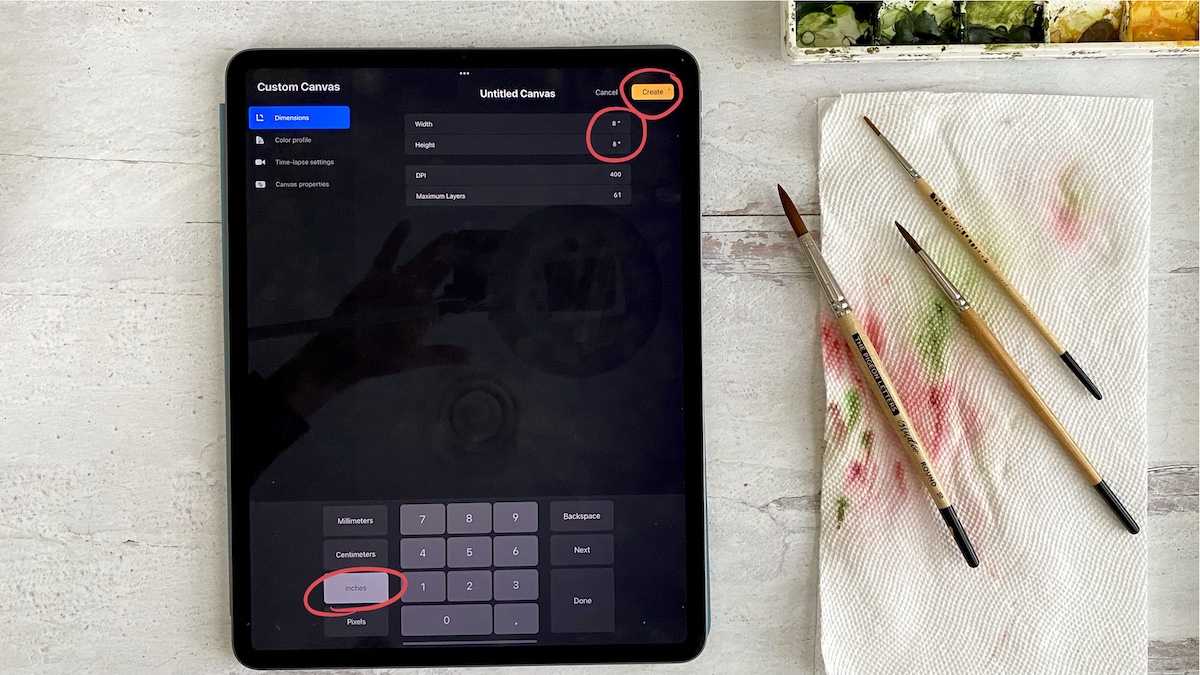 Open Procreate and create a new, 8x8 inch canvas by clicking the plus button at the top right hand corner of your screen. You'll see a little black rectangle with a small plus sign that you can click to bring up the custom canvas screen. At the bottom of the screen click on "inches" and then tap in the "width" and the "height" bars at the top and put in an 8. There is a DPI bar below that and I set mine to 400. Then hit the orange "Create" button at the top right and you should be in your new canvas!
Next click on your wrench tool at the top left of your screen and tap on the "Add" button at the far left under "Actions". You will see the "Insert a Photo" option. Clicking there will bring up your camera roll. Click on your edited photo and Voila! - your photo is inserted into your canvas!
Step 5: Remove the Background
We'll need to get rid of the entire background now. First, click the layers icon at the top right of your screen to make sure you are on your floral layer (I would go ahead and label it "Sprig 1" or something so you know it's your original). Next tap on the S shaped "select" button which is at the top left of your screen near your wrench tool. This will open up a menu at the bottom of your screen where you will select "Automatic" in the top row and "Remove" from the bottom row. When those are highlighted touch your pencil to the white background of your photo at the far left edge and slowly drag it to the right. The background (and really any white parts) should start to turn black and disappear. They should totally disappear if you drag all the way to the right. You can lift your pencil and tap any white areas that were missed. Once all the unwanted white is turned black, three finger swipe down on the screen to bring up the "Copy & Paste" menu and select "Cut" from the row of options (see photo below). You now have a layer with just your florals!
Important tip: Remember that tapping your screen with two fingers will undo the last action. You can do this multiple times to go back a bunch of steps if you mess up! Happens all the time!
Step 6: Replicate Layer and Arrange Florals
We are getting so close! Now comes the fun! Tap on your layers button and tap the plus sign to create a new layer. You'll need to hold this layer to drag it under your "Sprig 1" layer. Rename this layer "circle" (just tap on the layer and a menu will appear to the left with the "Rename" option at the top). Go ahead and turn off your Sprig 1 layer by clicking the check mark on the right side of that layer. Now use your pencil to draw a circle in a dark color that will show up (I just used black). Start at the top and make the best circle you can and when you reach the starting point hold your pencil still and Procreate will snap it into a perfect circle for you! This will be our guideline for arranging our florals and we'll turn it off later so it won't show. If your circle is not centered on the canvas, just slide it over.
We can now turn our Sprig 1 layer back on (just recheck the box on that layer) and swipe left on it to reveal the "Duplicate" option. You'll want to make at least five duplicates of your original Sprig 1 layer and label them each with a different number. It just helps to keep track as we move them around to place them along the circle. I ended up using six duplicates to create this wreath as you can see above. You can make sure they are evenly spaced by adding some dots to your circle (be sure you are on the "circle" layer or another separate layer!) where the 1, 3, 5, 7, 9 and 11 would be on a clock. I centered each of my layers on those blue dots (see below).
Important tip: Remember to use your pencil to move your layers around. This way you won't accidentally increase or decrease the size of any one layer. When you need to rotate your layers to fit along the circle, use the green dot that shows up on the bounding box (see photo above) as this too will keep things the right size!
I sure hope you enjoyed this tutorial and I would love to see your wreaths! Share them on Instagram and tag @thepigeonletters and @sweetseasonsart! Happy painting!
See all of Cris' tutorials here!
Cris is a self-taught artist living in Richmond, Virginia. She works in watercolor (her first love), gouache and digital design. She gravitates to botanicals, but loves painting along with the seasons and trying new subject matter like food, buildings and birds!
---
Enjoyed this tutorial? Pin for later!